Dangal actress Zaira Wasim defends woman eating in Niqab; says totally 'my choice'
After seeing a photo of a woman eating while wearing a niqab, Zaira Wasim commented and supported it on Twitter. She left acting for religious reasons few years back- By Anushri Bokade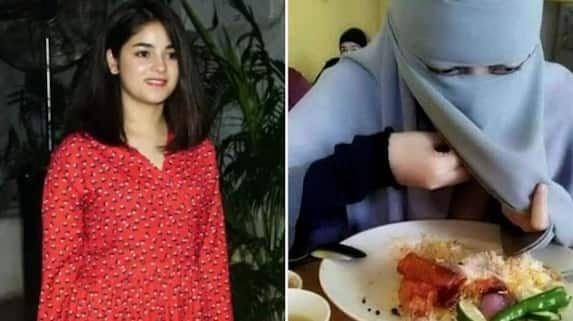 Zaira Wasim, a National Award-winning actress, declared her "disassociation" from acting in 2019. She has frequently uploaded content on social media that supports her religion. The former actress recently shared a post on Twitter about how it is entirely her option whether or not she decides to eat while wearing her niqab. Zaira was responding to a tweet from a user who had shared a photo of a woman eating with her hand while still donning the niqab.
ALSO READ: Sidhu Moosewala 1st death anniversary: Here's Punjabi rapper's top 5 chartbusters
In 2019, Zaira Wasim left the film industry. After a user questioned a woman who was eating while wearing her niqab, she has since posted a vehement response on her Twitter account. In the picture, the woman seen clutching her niqab in her left hand while using her right hand to eat. "Is this a choice of a human being?" was the caption that accompanied the image on social media.
Zaira Wasim responded to the tweet by saying, "Just attended a wedding. Ate in this identical manner. solely my decision. even though everyone in my immediate vicinity kept urging me to remove the niqab. Not me. We don't do this for you. Cope with it (sic)."
Zaira Wasim announced her decision to stop performing in a lengthy post on Facebook in June 2019 due to her commitment to her religion. "Though I may fit here perfectly, I do not belong here," she wrote, realising this.
"Five years ago, I made a choice that forever altered my life. I started to garner the majority of the public's attention, was portrayed as the epitome of success, and frequently served as a role model for young people. But I never intended to be or do that, especially in terms of my concepts of success and failure, which I had just recently begun to investigate and comprehend," Wasim wrote in the lengthy piece.
 ALSO READ: 'LEGENDS NEVER DIE...' SIDHU MOOSEWALA'S FANS REMEMBER SINGER ON DEATH ANNIVERSARY
Last Updated May 29, 2023, 9:18 PM IST