Bigg Boss 17: Khanzaadi gets scolding from Salman Khan for fighting with Mannara in front of Katrina Kaif
Katrina Kaif will enter the house to promote Tiger 3 as the Diwali celebrations continue. Salman Khan will lose his cool on Khanzaadi for misbehaving in front of Katrina Kaif. The video is now viral.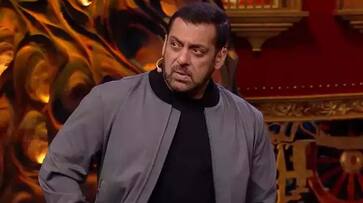 Diwali will be spectacular for Bigg Boss 17 contestants as Katrina Kaif and Salman Khan will join the house to promote their film, Tiger 3. In the current Weekend Ka Vaar, viewers watched the presenter teaching Neil Bhatt and Aishwarya Sharma over their 'toxic' attitude towards each other. On Sunday, Salman Khan will lose his cool on Khanzaadi. 
In yesterday night's advertisement, Khanzaadi had a verbal quarrel with Mannara Chopra in front of Katrina Kaif. While other housemates requested her to keep it down on the occasion of Diwali, she proceeded with her fights. The video then shows Salman Khan interrupting and slamming her over her disrespectful behaviour in front of Katrina Kaif. 
Also Read: Diwali special: Why did Salman Khan, Katrina Kaif's Tiger 3 release on Deepawali?
"Khanzaadi aapko sirf ladna-jhadana hai kya is ghar mein? Katrina yahan pe aayi hai yahan pe Diwali pe aur yeh chal rha hai is ghar mein! Rubbish this is," Khan said. Replying to him, Khanzaadi said, "Sir she is talking behind my back." 
Salman Khan became upset and said, "Yaar tu mujhe maaf kar de yaar Khanzaadi. Bak bak chaalu hi rehti hai aapki. Ghar pe bhi aisi hi ho kya? Line or limit na cross na karein yahan par koi." Following this, Katrina can be seen calming Khan down.
Also Read: Tiger 3 REVIEW: Will Salman Khan, Katrina Kaif's film, become a blockbuster?
Watch the viral video here: 
Soon after the video went online and viral, Bigg Boss 17 fans responded to it and slammed Khanzaadi for the same. One user wrote, "Katrina ke aage bhai ko gussa dila rhe hai." Another user wrote, "She is disrespectful." 
Yet another user commented, "She was calling for it, she wants Salman to talk about the characterless comment. She deliberately brought it during the task as well, she fought over it in the morning of WKV again. Attention chahiye usko, mili bhi gayi zilat mila." 
Last Updated Nov 12, 2023, 11:29 AM IST