Diwali special: Why did Salman Khan, Katrina Kaif's Tiger 3 release on Deepawali?
Finally, the day is here. Today saw the release of the eagerly awaited Tiger 3, starring Katrina Kaif and Salman Khan. Recently, YRF revealed their reasoning for choosing to release the movie on Diwali. Examine the specifics.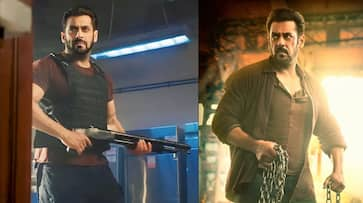 Salman Khan Day is today. On November 12, Tiger 3 finally debuted on the big screen after a protracted wait. The action-thriller, which stars Emraan Hashmi, Katrina Kaif, and Salman Khan, is the fifth instalment in the YRF Spy Universe and the follow-up to Ek Tha Tiger and Tiger Zinda Hai. With all eyes on Tiger 3's box office performance, YRF recently explained the film's release on Diwali, which is supposedly a "weaker day."
YRF Vice President of Distribution Rohan Malhotra revealed the rationale behind the choice in an interview with India Today, comparing it to the approach taken during the release of Shah Rukh Khan's Pathaan. For those who don't know, Pathaan is a show that appears in the YRF Spy Universe and features a cameo by Salman Khan. 
Also Read: Tiger 3 REVIEW: Will Salman Khan, Katrina Kaif's film, become a blockbuster? Read this
According to Malhotra, YRF doesn't do things traditionally and values celebrities' fame. "I always believe that it is absolutely fine to do the conventional and there is no need to reinvent if there is no need for it. In this case, however, what came to our mind was that it is important for us not to look at the opening day numbers but to focus on what is eventually going to benefit, and in the case of Tiger 3, we definitely felt that going on Laxmi Puja day, which is considered the weakest day to release a film, would be a better fit for our film," he said.
"This came to us for the simple reason that at the start of the year, we had a film like Pathaan. Had we followed the conventional way, we would have released the film on Republic Day, where we were definitely assured a certain number. But at YRF, we focused on the film's lifetime business and came a day earlier. It worked like a dream. We got insane numbers. It came from a simple belief that we had made a good film with a superstar, Shah Rukh Khan and Adi, and all of us at YRF believed in his stardom," Malhotra added.
Also Read: L2E -Empuraan: First look poster of Mohanlal-Prithviraj starrer out; Read
Salman Khan's Tiger 3 may fail to beat Shah Rukh Khan's Pathaan
These are record-breaking statistics for Diwali, a festival. However, Tiger 3 might not be able to outperform Pathaan's opening in terms of comparison. The Shah Rukh Khan film reportedly made Rs 57 crores on its first day of sales in India. The revenue from the evening and nighttime shows may suffer because of Lakshmi puja, but industry tracker Sacnilk predicts that Tiger 3 will debut between Rs 40 crores and Rs 50 crores.
If Tiger 3 gets a good reception, it will probably become an unstoppable force starting on Monday. Tiger 3, which is the third installment in the Tiger franchise and the fifth instalment in the YRF Spy Universe, is directed by Maneesh Sharma. 
Last Updated Nov 12, 2023, 10:44 AM IST