Tiger 3 REVIEW: Will Salman Khan, Katrina Kaif's film, become a blockbuster? Read this
'Tiger 3', starring Salman Khan and Katrina Kaif, was released today, November 12 (Sunday), and as anticipated, audiences flocked to the cinemas to witness the spy movie despite Diwali.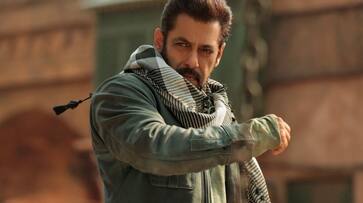 It's no wonder that Salman and Katrina have been in the news lately. After all, the team has finally returned with the much-anticipated Tiger 3. Tiger 3, directed by Maneesh Sharma, is the third entry in the very popular Tiger franchise, with Salman and Katrina playing Tiger and Zoya, respectively.
The third in the "Tiger" film series, which debuted in 2012 with "Ek Tha Tiger" under the direction of Kabir Khan and continued in 2017 with "Tiger Zinda Hai" under the direction of Ali Abbas Zafar, is called "Tiger 3." Along with crossovers with "Pathaan" and "WAR," "Tiger 3" has appearances from Shah Rukh Khan and Hrithik Roshan.   
Also Read: Ananya Panday, Aditya Roy Kapur papped on 'romantic long drive' in viral video - WATCH
The movie's screenings began as early as six in the morning, and reviews have been flooding X with largely favourable responses and praise for the action scenes. 
Taking to micro-blogging site Twitter (now x), a London resident wrote, "The first half is fast paced, full of action but what stands out is a emotional aspect of movie. ETT is my favourite but this tops it. Edge of the seat stuff. Salman 3.0 Let's hope this continues during second half. #Tiger3".
Besides, fans have also been in awe of Shah Rukh Khan's cameo in Tiger 3 and wrote, "What an amazing entry of #Pathaan in #Tiger3 ,,, Manish Sharma love you man".
Also Read: Tiger 3: Katrina Kaif's smooth dance rehearsal for 'Leke Prabhu Ka Naam' is unmissable - WATCH
In the meanwhile, Emraan Hashmi recently spoke candidly about his part in Tiger 3, saying, "It was a pleasure to create Aatish, a guy driven by fury who would stop at nothing to defeat Tiger. I portray a really unique villain that is uncommon in Hindi film. Being intelligent, he can use his mind as his strongest tool. He also has enormous influence over national authorities, which he uses to carry out his cunning schemes. His only goal is to eliminate Tiger and his family, and in the process, he hopes to eliminate the largest super agent in India. He wants Tiger gone at any costs because he knows that he would always be the last man standing for India."
About Tiger 3:
Salman, Katrina, and Emraan Hashmi urged fans not to reveal any spoilers earlier on Saturday in order to preserve the many mysteries in the story of the upcoming action movie "Tiger 3." "We put a lot of love into making #Tiger3, and we rely on you to see the movie and guard our spoilers. Spoilers can ruin viewers' enjoyment of a movie. We have faith that you will act morally. Salman said on X, "We hope #Tiger3 is the ideal Diwali gift from us to you!!"   
"Tiger 3," which was directed by Maneesh Sharma and produced by Aditya Chopra, is now available in Telugu, Tamil, and Hindi. 
Last Updated Nov 12, 2023, 9:55 AM IST