Bigg Boss 13: Sidharth Shukla supports Paras Chhabra, ditches Shehnaaz Gill, Arti Singh
Asim Riaz and Sidharth Shukla will again fight because of Arti Singh and Paras Chhabra; read on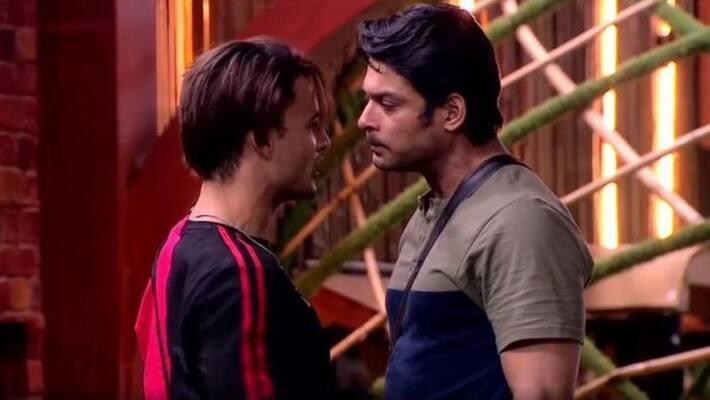 Bigg Boss 13 is coming to an end, but Asim Riaz and Sidharth Shukla's fights are not. Yes, in today's episode, we will see Asim Riaz and Sidharth Shukla at loggerheads because of Arti Singh and Paras Chhabra.
Last night, we saw that three contestants including Asim Riaz, Sidharth Shukla and Rashami Desai are safe as they are Elite Club members. But the other four contestants, namely Shehnaaz Gill, Arti Singh, Paras Chhabra and Mahira Sharma, are still in the danger zone.
Tonight, we will see Bigg Boss give them a chance to get saved from the nominations. But it will be with a twist as their luck will be in the safe contestant's hand.
In the preview video, we see that the three Elite Club members fight it out during the task where they have to save the unsafe contestants who have been locked in a cage.
During the discussion, Asim decided to support Arti, Rashami and Shehnaaz, and Sidharth chose Paras. To that, Asim questioned Sidharth's choice telling him to help Arti as she has been with him since the beginning.
However, Sidharth stayed inflexible and said that he wanted to save Paras.
When the buzzer rang, Asim and Sidharth, ran towards the cage to free their chosen one and again got into a tiff. Sidharth let Paras free, which made the latter emotional.
We also saw Asim questioning Sidharth's loyalty for his friendship with Arti Singh, where he  said, "You betray everyone, and that is why you don't have real friends." In the video, Arti looked upset with Shukla. However, Shehnaaz got mad at Asim and supported Sid.
Take a look at the video:
Last Updated Feb 7, 2020, 1:20 PM IST