Amitabh Bachchan to Tiger Shroff: Meet 6 unbelievable lookalikes of Bollywood celebrities
A short video platform VMate has opened the doors of fame for individuals, who are lookalikes of popular Bollywood actors such as Tiger Shroff, Ajay Devgn, Johnny Lever and Amitabh Bachchan, among others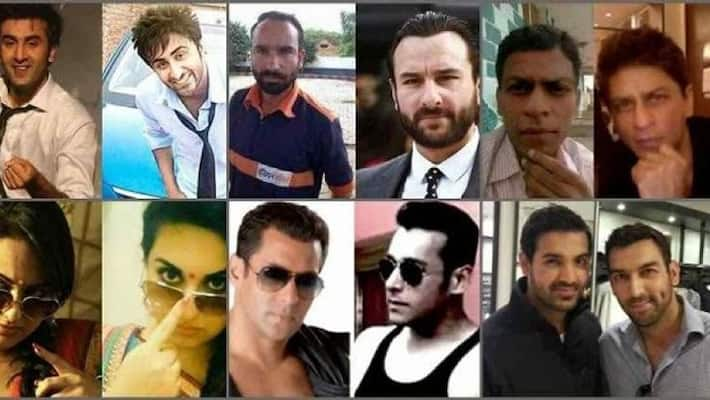 The Bollywood bug smites a significant chunk of the Indian population. Indians have a history of idolising and worshipping film stars. And then there are a few, who do not just consider these stars their role models, but imbibe their attributes and mannerism so much so that they transform into replicas of their favourite actors and actresses. Trending short video platform VMate has opened the doors of fame for some such individuals, who are lookalikes of popular Bollywood actors such as Tiger Shroff, Ajay Devgn, Johnny Lever and Amitabh Bachchan, among others.
1. Ajay Devgn
One such performer on the platform is Roshan Kumar, who is a diehard fan of critically acclaimed actor Ajay Devgn. Hailing from Ballia in Uttar Pradesh, Roshan already has more than 2.79 lakh followers. To make his resemblance with the actor even more striking, Roshan has got a hairdo that was donned by the actor in his younger avatar. His creations are majorly based on interesting and emotional dialogues from the actor's earlier films like Diljale, Dilwale and Phool Aur Kaante.
2. Paresh Rawal
Remember the hilarious character of Baburao Ganpatrao Apte from blockbuster comedy flick Hera Pheri? The character, played by actor-turned-politician Paresh Rawal, has been mastered by another content creator, whose profile itself is named after the veteran actor. Wearing a pair of torn kurta-pajama, he lip-syncs dialogues of Paresh Rawal with such ease that your jaws would drop in amazement. A native of Rajasthan, the creator, is followed by over 85,000 people.
3. Johnny Lever
Tickling your funny bone on the platform is another creator named Johnny. And not just his profile name, even his face and expressions are strikingly similar to that of Bollywood's evergreen comedian Johnny Lever, who has been an entertaining audience for almost four decades. When you see the performances by Johnny on VMate, you wouldn't help but laugh out loud watching his popping eyeballs and hilarious facial expressions.
4. Tiger Shroff
The platform is also home to the lookalikes of some new-age Bollywood heartthrobs like Tiger Shroff. Tejas Sharan from Rajasthan resembles the action star and has captured the attention of almost 1.37 lakh followers.
5. Amitabh Bachchan
There are some Bollywood superstars like Amitabh Bachchan and Shah Rukh Khan, whose lookalikes are in plenty across the country. But there are some performers on VMate who are spitting images of these legendary actors. Mobin Khan from Maharashtra's Aurangabad delivers Big B's dialogues from iconic films like Deewaar and Coolie. Mobin's performances have been loved on the platform and he currently has around 1 lakh followers.
6. Amrish Puri
One of the rare finds on VMate is the lookalike of Bollywood dreaded Mogambo, Amrish Puri. The profile of Amrishpuri is dedicated to the actor, who was once referred to in the international media as Bollywood's best villain. It takes a genius to master the skills of someone like Amrish Puri, who worked in hundreds of films and excelled in all genres – negative performance, character role, comedy. And that is exactly what DK Amrishpuri has done in his creations. When he moves his palm on his shaved head while lip syncing the dialogues of the legendary actor, you cannot help but get amazed by his acting prowess. With more than 1 lakh followers on VMate, the Mumbai-based creator is certainly one of the best discoveries of the platform.
Last Updated Feb 24, 2020, 5:22 PM IST