Adele breaks silence on quitting 'alcohol'; claims being 'jealous' of fans enjoying 'whisky' at her concert
During her performance in Las Vegas, Adele told the audience members how she had quit alcohol despite having a complicated relationship with it in her past. 'Easy On Me' fame Grammy-winning singer Adele also joked about being jealous of her fans who enjoyed whisky at her musical concert.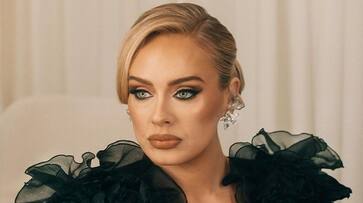 When it is about one of the most frank celebrities in the music industry, Adele has to be on the list. The singer remains open about several incidents and experiences of her life. Her struggle with alcoholism is one of them. Recently, the 35-year-old revealed she has achieved sobriety and shed light on how boring it has been to reach the stage of how alcoholic she used to be. Here's what the English artist revealed during her show. During her Las Vegas concert-show, Adele revealed that she gave up drinking alcohol and joked about being jealous of a fan who was drinking a whiskey sour.
ALSO READ: Melon Music Awards 2023 venue revealed: Details on when and where to watch grand event
The Rolling in the Deep hitmaker saw an attendee in the lottery seats enjoying a pint of the drink and said, "Cheers to that." She added, "You know, I stopped drinking quite a lot of time ago."
She then interrupted herself to make a joke. Adele added, "I know how my chicken fillets moved out of place. It looks like I have got three boobs. I stopped drinking. It feels like forever, maybe three and a half months ago. I was literally borderline alcoholic for quite a lot of my 20s, but I miss it so much."
She also disclosed that she cut out caffeine from her diet. "So, enjoy your whiskey sour. I am very jealous." Adele added that different characters come out of a person when one is drunk. Once someone looks reckless, the press wants to make a story out of it. "They descend, and descend, and descend on you, which drives you f*cking mad," she told the magazine. Her last studio album was titled 30. It was released in 2021. She was reported to be working on new music.
ALSO READ: Singham Returns: Tiger Shroff unveiled as new member of Rohit Shetty's cop squad! See FIRST look
Last Updated Oct 19, 2023, 2:20 PM IST