Aankh Micholi Trailer: Paresh Rawal, Mrunal Thakur, Abhimanyu starrer is full family entertainer
Today, September 26, sees the release of the official trailer for Aankh Micholi, starring Paresh Rawal, Mrunal Thakur, and Abhimanyu. The new film teases a full-fledged family entertainment.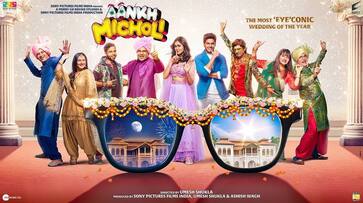 Today, September 26, the producers of Aankh Micholi unveiled the movie's official trailer. Paresh Rawal, Mrunal Thakur, Abhimanyu, Sharman Joshi, Divya Dutta, Abhishek Banerjee, Darshan Jariwala, Grusha Kapoor, and Vijay Raaz all play significant roles in the movie. A comprehensive family entertainer is suggested by the movie's teaser. Comedy, drama, and emotion are all there in the Aankh Micholi trailer, which is directed by Umesh Shukla. Mrunal Thakur begins the teaser by asking God to send her a wonderful man who will love her deeply. When the sun goes down, Mrunal loses his ability to see, which is then known as night blindness.
According to Paresh Rawal, there were a total of 27 grooms that showed up for Paro's wedding. (Mrunal). Paresh takes care to keep Paro's night blindness a secret. The video, which is centred around an Indian wedding, depicts the antics of two dysfunctional families and their outlandish antics, which will send viewers on a joyful trip of enjoyment and emotions.
Aankh Micholi, directed by Umesh Shukla, is written by Jitendra Parmar and produced by Sony Pictures International Productions, Umesh Shukla, and Ashish Wagh's Merry Go Round Studios. Umesh Shukla is well known for his work on the films Oh My God and 102 Not Out. The greatest gift and satisfaction any filmmaker can experience, according to renowned director Umesh Shukla, is seeing their work in theatres after putting their heart and soul into it. We hope that families will like and watch this movie together because it is entertaining. I wish I could see everyone's smiles. 
Last Updated Sep 26, 2023, 7:31 PM IST