'Ghost' movie: Shiva Rajkumar's fans shatter glass of Bengaluru theatre over frustration of late entry
During a fan show of the Kannada movie "Ghost," frustrated fans of actor Shiv Raj Kumar damaged Santosh Theatre in Bengaluru due to admission delays. The chaos resulted in an injured staff member. The film, featuring Shivraj Kumar, had created significant excitement, with special midnight showings and expectations of a successful first-day collection in Karnataka.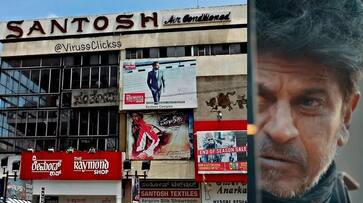 During the fan show of the movie "Ghost," fans of Kannada actor Shiva Rajkumar expressed their frustration by damaging the Santosh Theatre in Bengaluru. The incident resulted in a staff member being injured by shattered glass, leading to the office being covered in blood.
The crowded theatre during the fan show faced delays in allowing people inside, and by the time they were admitted, the movie had already started. Frustrated fans then vented their anger by breaking the glass in the theatre's office, causing widespread damage. One staff member was injured by glass, and police promptly rushed him to the hospital, creating a tense atmosphere at the venue for a period.

Ghost REVIEW: Hit or flop? Will Shiva Rajkumar's action thriller win fans heart? Read THIS
"Ghost," featuring the "Hatrick Hero" Sivarajkumar, was highly anticipated by fans and generated significant excitement. The film, a pan-India release, showcases Shivraj Kumar in a new and intriguing role. The movie's craze had reached its peak in Bengaluru, and special midnight showings began on October 18.

India vs Pakistan 2023: Actor Shiva Rajkumar promotes his movie 'Ghost' amidst high-voltage match
Fans celebrated the release by adorning cutouts of Shivraj Kumar and engaging in fireworks displays. The film, directed by Srini, has been well-received and stars Shivraj Kumar, Anupam Kher, and others. Shivanna's portrayal of the character Anand, whom he first played 38 years ago, has reignited fan enthusiasm. The film also presents a younger look for Shiv Raj Kumar, created using advanced technology.

The movie "Ghost" is receiving attention not only in Karnataka but also in markets in Mumbai, Hyderabad, and Chennai. The film had midnight showings in various Karnataka cities, and fan and first-show tickets were quickly sold out. With such anticipation and excitement surrounding "Ghost," it is expected to achieve a successful first-day collection, potentially exceeding 10 crores in Karnataka.
Last Updated Oct 19, 2023, 10:42 AM IST