Inter-state robbers arrested in Bengaluru; gun, gold and silver worth Rs 52 lakh seized
Two inter-state robbers who had wreaked havoc in different parts of Karnataka and were wanted criminals in over 10 cases, were arrested by the Central Crime Branch officials in Bengaluru. The police also seized 1 pistol, 7 bullets, 1 kilo of gold and 7-kilo silver all worth Rs 52 lakh. With the arrest, they have solved 11 cases of robbery in six police station limits in Bengaluru.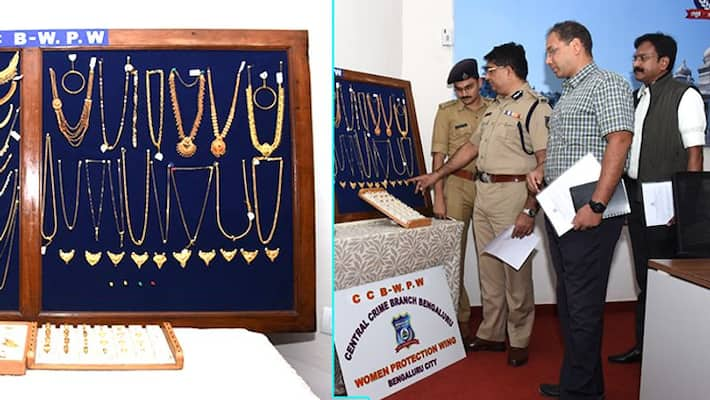 Bengaluru: In a clear breakthrough, the Central Crime Branch (CCB) today caught two inter-state robbers, who planned to loot a shop in Vidyaranyapura police limits in Bengaluru.
With the arrest of Miraj Karim Saab 35, KR Puram resident and Sajid Ali Baig 35, Benson Town, the police have solved 11 cases and recovered gold and silver worth Rs 52 lakh.
The duo's modus operandi is to steal bike and car and then loot shops and houses. Based on their confession, the police recovered 1.32 kilograms of gold and 7 kilograms of silver ornaments. The police also seized a pistol and 7 bullets from the accused.
According to police, accused Karim used to sell the stolen items through Sajid Ali. Another person connected to the case is on the run and police say they have found some clue and will soon catch him.
"With the arrest of the duo, three cases from Vidyaranyapura, two each from Hennur and Amruthalli station and one each from Sampigehalli, Bagalur, Byatrayanpura and Kadugudi limits have been solved," said a senior official from CCB's organised crime wing.
Last Updated Dec 21, 2019, 4:17 PM IST