Bengaluru: Daring autorickshaw driver nabs chain snatcher, helps return woman's jewellery
Auto driver Hanumantha was rewarded Rs 10,000 cash price by Bengaluru Traffic Police for his daring act and presence of mind to nab a chain snatcher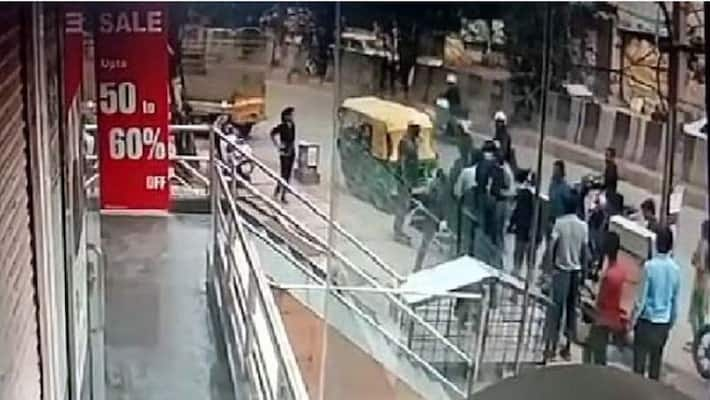 Bengaluru: A daring autorickshaw driver in a scene similar to that of a movie, chased a bike-borne chain snatcher and managed to nab him after knocking him down from his vehicle with his auto, in Marathahalli.
Autorickshaw driver Hanumantha observed a chain snatcher on a bike, grabbing a chain from the neck of a lonely woman standing on the street. The chain snatcher was trying to flee the scene when Hanumantha hit the chain snatcher's vehicle from behind, and not only caught the culprit but thrashed him before handing him over to police.
Thought the incident occurred on Sunday (December 8) near Max showroom in Marathahalli, it came to light only on Wednesday (December 11). Hanumantha's daring act not only resulted in the culprit being caught but also in the return of the woman's jewellery.
Hanumantha was rewarded Rs 10,000 by the city traffic police for his brave act and presence of mind. Marathahalli Police arrested the chain-snatcher identified as Vignesh, a resident of KG Halli. The cops recovered the gold chain that he had snatched from the woman. The entire incident was caught on CCTV.
CCTV footage shows that the victim was walking when Vignesh approached her and snatched the gold chain from her neck and tried to flee the scene. Hanumantha, who is in his auto at the same spot at the same time, witnessed the incident and chased Vignesh. After a few meters, Hanumantha rammed into Vignesh's bike and brought him down. As Vignesh fell off the bike, Hanumantha shouted for people's help and caught him. The public nabbed Vignesh and thrashed him before handing him over to Marathahalli police.
The police later produced Vignesh before a local court which remanded him to judicial custody.
Last Updated Dec 12, 2019, 11:52 AM IST