WTC Final, IND vs AUS: Centurion Travis Head reveals how it feel like to bat with Steve Smith
Travis Head, who notched up a century on the first day of the WTC Final, voiced his fondness for batting in partnership with Steve Smith.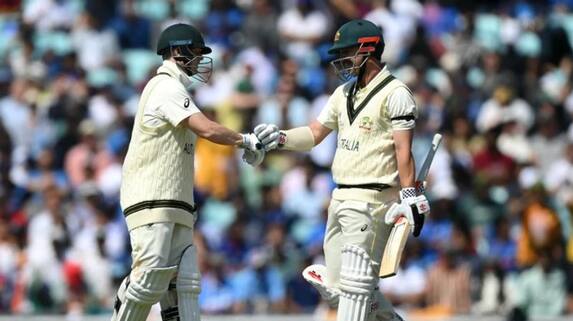 Travis Head, who scored a magnificent century on day 1 of the WTC Final expressed his inclination for batting alongside Steve Smith, as it brings out his best in him. During the first day of the World Test Championship final against India, Head played a brilliant knock of 146 off 156 balls, putting Australia in a commanding position. 
Looking forward to day two of the final, Head and Smith have the opportunity to further extend their partnership, which has already yielded 251 runs. Head acknowledged Smith's status as one of the world's best players and Australia's premier batsman, highlighting the attention he receives from the opposition in terms of bowling plans and the challenges he presents.
"I've always said I do really enjoy batting with Steve because of how much attention he receives. He's one of the best players in the world, probably our best player," said Head.
"He's our best batter, he's unbelievable in these conditions, and he receives so much attention from opposition in terms of plans and how difficult he is to bowl to, so I've always said going out to bat with him, it feels like you're in the shadow of that, you can sort of stay under the radar and go about your business," he said.
Also Read: WTC Final, IND vs AUS: Virat Kohli lauds Steve Smith as best Test batter of this generation
The left-handed batsman attributed his remarkable performance to his present mindset and the technical adjustments he implemented to his batting after 2019. 
"Losing the toss in the morning I thought it was going to be a challenging day. Nice to contribute nice to get a good start."
Talking about his approach, he added: "I said in the lead in to the game, if balls are there to be scored off I am going to score off it. There were challenging periods but the ball gets to the boundary very quickly here if you find middle of the bat.
"Technically, I have made those changes but for all around. I felt I needed to adapt to each condition. The foundations in my game has surely a changed a lot since 2019."
Also Read: ODI World Cup 2023: Pakistan unwilling to play in Ahmedabad unless they are in grand final - Report
Last Updated Jun 8, 2023, 3:06 PM IST