Will it be India vs Pakistan again? Who will face Men in Blue in WC semifinals: All three scenarios explained
After Australia's triumph securing a place in the last four against South Africa, the ODI World Cup 2023 semifinal opponent for favoured India will likely emerge from a three-way tussle involving New Zealand, Pakistan, and Afghanistan.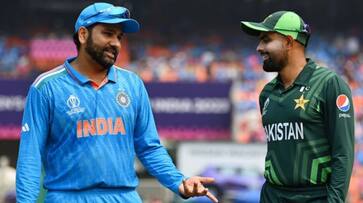 Following Australia's triumph on Tuesday night that solidified their spot in the last-four clash against South Africa in the ongoing ODI World Cup 2023, the competition for India's potential semifinal rival mainly narrows down to a battle involving New Zealand, Pakistan, and Afghanistan. All three teams are tied at eight points each, with Net Run-Rate being the sole differentiator. New Zealand, set to face a struggling Sri Lanka in their final group match at Bengaluru on Thursday, boasts the highest NRR of 0.398 among the three teams.
The previous edition's runners-up must secure a comprehensive victory and simultaneously rely on Pakistan (0.036) and Afghanistan (-0.038) not securing wins to stay in contention.
Also read: ODI World Cup 2023: Tickets for semi-finals and final to be sold today; here's where to buy from
The Black Caps' recent struggles, encountering four consecutive losses due to poor bowling, coupled with a forecast of rain in Bengaluru for their impending match, have added further intrigue to the evolving scenarios.
India-Pakistan semifinal possibility at Eden Gardens?
A potential India-Pakistan semi-final encounter at Eden Gardens remains plausible. For this scenario to materialize, Pakistan must exhibit an exceptional performance against England on Saturday.
Babar Azam's team, showing signs of regaining their form, must secure a significant victory, with the advantage of playing after New Zealand and Afghanistan's match.
Afghanistan, the tournament's most improved team, encountered a near-victory against Australia before missing out on a win, will face title-contenders South Africa in Ahmedabad on Friday.
When Pakistan faces England in Kolkata on Saturday, they will have the advantage of knowing the precise run-rate requirements. To qualify as the fourth team, Afghanistan must defeat the formidable South Africa by a considerable margin to surpass the NRR of New Zealand and Pakistan.
However, if New Zealand and Pakistan lose against Sri Lanka and England, respectively, Afghanistan's victory against South Africa would suffice for their qualification.
Also read: Shubman Gill claims No.1 ODI batsmen rank, Ending Babar Azam's reign
The underdogs Netherlands, causing two remarkable upsets by defeating South Africa and Bangladesh, have a slim chance mathematically. With four points and two matches remaining, they can reach eight points.
The Dutch will take on England in Pune before clashing with table-toppers India in their final group league match in Bengaluru on November 12.
For the Netherlands to secure a place, they must produce two more surprising victories to enhance their highly negative net run-rate (-1.504), which seems highly improbable. Additionally, they need to hope for New Zealand, Pakistan, and Afghanistan to lose their respective matches by substantial margins.
Last Updated Nov 9, 2023, 1:34 PM IST