Watch: Virat Kohli, Brian Lara and others speak on importance of mental strength
On 'MFORE', Virat Kohli, Brian Lara, MS Dhoni, Anil Kumble and others speak on mental health. 'MFORE' was launched by former India batsman S Badrinath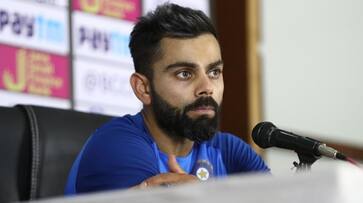 Bengaluru: Indian cricket team captain Virat Kohli, former West Indies skipper Brian Lara and other cricketers have spoken about the importance of mental strength in sport.
Former India Test batsman S Badrinath has launched a non-profit initiative named "MFORE" which will offer mind conditioning programmes to sportspersons. In a video posted on 'MFORE' website, Kohli, Lara, MS Dhoni, Anil Kumble, VVS Laxman, Michael Hussey and others speak on mental aspects of the game.
Also read: I feel the pressure, admits MS Dhoni
Kohli said, "mental strength and mental clarity" is most important not just in sport but in life too.
Also read: Exclusive interview with MSK Prasad
On its website, MFORE said, "MFORE is a Non Profit Initiative offering Mind Conditioning Programs to achieve peak performance in Sports. Our aim is to remove the interferences caused by the Mind and enable the player to perform to their true potential. In other words "We stop the players from stopping themselves.
"We closely work with team's coaches to identify the needs of the players and come up with customized training programs. Our modules are delivered through one-to-one sessions, group sessions and outbound team bonding activities. Our vision is to bring in a culture of mind skills training among sporting fraternity in India through simple and sustainable programs."
Here is what the cricketers said about mental strength.
Virat Kohli
"I think mental strength and mental clarity is the most important factor in life not just in sport. But you helping these cricketers is going to go a long way in understanding themselves better and then going out and performing despite the conditions, situations being difficult for them."
VVS Laxman
"When I started playing the game of cricket as a youngster I thought if I was naturally gifted, talented and if I worked hard on my technique then I would achieve success. As I progressed from being a first-class cricketer to an international cricketer and when I looked back at my career, one of the most important elements or ingredients to achieve success is how you think, how you use your mind. Because the power of mind is unfathomable."
Anil Kumble
"For me, as a cricketer, I realised that it was not just about skill but how strong you are mentally, coping with different pressures that you encounter."
Brian Lara
"Mental strength is very important part of the game. Talent is one thing but you had to be mentally strong. I worked on that part more than anything else."
Last Updated May 8, 2020, 1:17 PM IST