'Virat Kohli thinks he's Cristiano Ronaldo, but...': Yuvraj Singh's take on Indian star's football skills
The article highlights a playful exchange and football rivalry between former India cricketer Yuvraj Singh and current India batting icon Virat Kohli during an interview.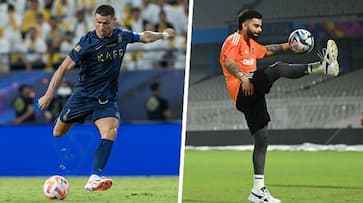 Former India all-rounder Yuvraj Singh took a playful jab at India's cricketing sensation Virat Kohli. Yuvraj, in a recent interview, humorously suggested that Kohli perceives himself as legendary footballer Cristiano Ronaldo, although Yuvraj believes Kohli isn't quite at that level. Despite their friendly rivalry, both players have shared the field representing India. Yuvraj bid farewell to his international cricket career in 2019, while Kohli remains an integral part of the team. Not only accomplished cricketers, but both Yuvraj and Kohli also have a shared love for football, with Yuvraj stating his superiority over Kohli in the sport.
Also read: Will it be India vs Pakistan again? Who will face Men in Blue in WC semifinals: All three scenarios explained
"Meri aur Virat ki bahut badi ladai hui hai football mein, meri [Ashish] Nehra ke saath bahut badi ladai hui hai football mein, Viru [Sehwag] ke saath, toh vo ho jaata hai. [Me and Virat have fought during football. I have also had fights with Nehra and Sehwag]," Yuvraj mentioned during the TRS podcast, shedding light on their football interactions. 
When asked by the host: "Is Virat Kohli an amazing footballer?
"Usko (Virat Kohli) lagta hai," said Yuvraj. "Hai skilll, par mere andar usse jyada hai. Vo faadu batsman hai, footballer mai better hoon. He thinks he is Cristiano Ronaldo, but he is not. In his cricket, he is (Cristiano Ronaldo). [Kohli thinks he is a very good footballer. He has skills, but I am better than him in football]," he added.
This playful exchange showcased Yuvraj's perspective on their football prowess in a light-hearted manner.
During the interview, Yuvraj also touched upon his relationship with Kohli. Known for welcoming Kohli warmly into the cricketing world early in Kohli's career, the bond between the two players is evident. They often exchange birthday wishes through social media. However, Yuvraj disclosed that he refrains from disturbing Kohli due to the latter's busy schedule.
Also read: ODI World Cup 2023: Tickets for semi-finals and final to be sold today; here's where to buy from
"Not really. I don't disturb him as he is busy. Young Virat Kohli's name was Cheeku. Today's Cheeku is Virat Kohli, there's a big difference," Yuvraj mentioned, suggesting that he doesn't intrude on Kohli's time due to his packed schedule.
This light-hearted banter and the camaraderie between the former and current Indian cricketing icons reflect their mutual respect and affection, even amidst their playful comparisons and behind-the-scenes anecdotes.
Last Updated Nov 9, 2023, 8:44 PM IST