Virat Kohli mourns death of pet dog Bruno; says 'graced our lives with love for 11 years'
Virat Kohli and his wife Anushka Sharma mourned the death of their pet dog Bruno. Both took to their social media accounts to post pictures. Kohli said, 'Gone to a better place today. God bless his soul with peace'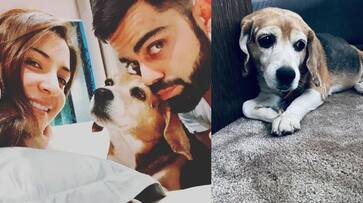 Bengaluru: India cricket team captain Virat Kohli on Wednesday (May 6) mourned the loss of his pet dog Bruno. Kohli said Bruno had "graced" their lives with love for 11 years but made a connection of a lifetime.
On Wednesday morning, Kohli took to his Twitter and Instagram accounts to post a photo of Bruno and said it had "gone to a better place today".
Also read: Virat Kohli joins fight against fake news
"Rest in peace my Bruno. Graced our lives with love for 11 years but made a connection of a lifetime. Gone to a better place today. God bless his soul with peace," Kohli wrote on his social media accounts.
Also read: Two-part exclusive interview with Irfan Pathan
Kohli's actress wife Anushka Sharma posted a picture of the duo together with Bruno and captioned it "Bruno RIP".
The Indian skipper often posts pictures of his pets on social media. In 2017, during the Indian Premier League (IPL), he had adopted 15 stray dogs in Bengaluru after visiting Charlie's Animal Rescue Centre (CARE), a rescue and rehabilitation centre for animals.
CARE had said, "It was simply unbelievable this morning to see Virat Kohli's car pulling up inside the gates of CARE. His love for dogs is common knowledge, and the fact that we happened to witness it in its purest form was a wonderful, indescribable feeling. He met Dash at the reception, said hello to Captain, walked around the entire place, keenly listening to our Founder trustee Miss Sudha Narayanan and Dr Lohith talk about CARE.
"He met our adoption pups George and Snowy and said in no uncertain terms that rescued is his favourite breed. He hoped people would understand that it's always better to adopt than to shop for a companion pet. He also passively adopted 15 dogs at CARE and expressed that we choose those 15 that have special needs, that are paraplegic, blind and chronically ill. It was a magical day for us."
Currently, India is under a lockdown until May 17 due to the coronavirus (COVID-19) pandemic. All cricket matches have been suspended. The 13th edition of the Indian Premier League (IPL 2020) has been suspended indefinitely.
Last Updated May 6, 2020, 10:30 AM IST