'Unprofessional' Sanjay Manjrekar breaks silence over on-air spat with Harsha Bhogle
Former India batsman Sanjay Manjrekar has spoken about his on-air spat with commentator Harsha Bhogle. The incident happend during the historic pink ball Test in Kolkata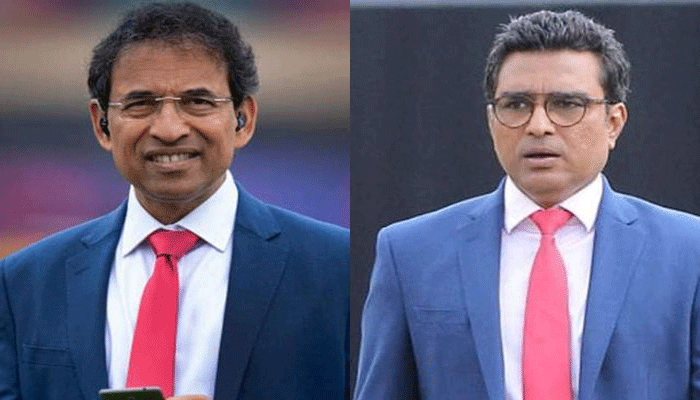 Bengaluru: Former India batsman Sanjay Manjrekar, who faced heavy criticism for his on-air spat with noted TV commentator Harsha Bhogle during the historic pink ball Test between India and Bangladesh, has now spoken about that incident in Kolkata.
During that day/night Test in November, Manjrekar was commentating on the game with Bhogle. When Bhogle spoke about the issues around the visibility of the pink ball and opined that the players should be asked about it.
Also read: Brawl mars DDCA AGM
Manjrekar, who played 37 Tests and 74 ODIs for India, seemed to snub Bhogle as he said it is never an issue for him as he knows about it as he has played the game.
Now, speaking to espncricinfo on Monday (December 30), the former Mumbai batsman admitted that he was "unprofessional" during that episode on the third day of the Test.
Also read: CA praises Sourav Ganguly
"With that particular comment, it was me losing control and I was unprofessional, I was wrong. It is something that I regret, it was wrong of me so that is what really bothers me that I let my emotions get the better of me," the 54-year-old told the website.
"So mostly being unprofessional and to an extent indecent as well. First thing that I did was apologise to the producers because I was wrong. People who have read my book know that I have actually made plea for production companies to have good commentators, doesn't matter whether they have played cricket or not," Manjrekar said.
During that match, Bhogle had said on air, "Well there is a postmortem done on this game and there should be a postmortem on this game. Visibility of that ball will be a big factor against the big white sight-screen."
To this, Manjrekar replied, "Don't think so. Because when you see the slip catchers the way they have taken catches, I don't think visibility is an issue at all. The texture of the ball is the issue."
When Bhogle remarked, "We just need to ask the players what they think," Manjrekar said, "You need to ask, for those who have played cricket, it's evident it can be seen well."
Bhogle did not leave it at that and made his point clear. "The only reason you need to ask is, having played cricket should never be a limitation or a ceiling to learning. We would never have had T20 cricket otherwise."
Manjrekar was not ready to give up and concluded by saying, "Point taken, don't agree."
Following this argument between the two, cricket fans slammed Manjrekar for his behaviour. India won that historic Test and with that claimed the two-match series 2-0 over Bangladesh.
Last Updated Dec 31, 2019, 11:19 AM IST