'To be honest...': Pakistan skipper Babar Azam's take on Indian hospitality during ODI World Cup 2023 (WATCH)
Ahead of their clash against England, Pakistan captain Babar Azam expressed gratitude for Indian fans' support during the ODI World Cup 2023, discussed the team's challenges, his personal goals, and adaptation to Indian conditions.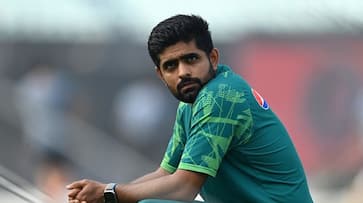 Pakistan captain Babar Azam expressed gratitude for the love and support received from Indian fans during the ongoing ODI World Cup 2023. Having arrived in India for the first time in September, Babar had high hopes of leading his team to World Cup glory. However, their performance in the tournament has been challenging, placing Pakistan in a precarious position with the possibility of an early exit.
In eight matches, Babar has scored 282 runs, including four half-centuries, but his individual success hasn't translated into inspiring the team as he had hoped. Pakistan now faces the critical task of securing a significant win against England in their final group match to keep their slim semi-finals hopes alive.
Also read: Gratitude exchanged: Indians thank Afghanistan for spirited show, Afghans applaud hospitality post WC exit
During a pre-match press conference, Babar acknowledged the support from Indian fans and shared his perspective on his personal goals and the team's adaptation to the conditions in India. Despite not achieving the desired finish in his batting, Babar emphasized that his primary focus was on contributing to the team's success. He highlighted his adaptability to different situations, playing both slow and fast based on the team's needs.
"To be honest - first I got a lot of love from India, a lot of support. Not only me, the entire team. Of course, I was not able to get a good finish. My goal was to get a good finish in the batting. I didn't have a goal to score 50 or 100. The main thing was to make the win the team. The performance that helps the team, not my individual performance. I played slow, I played fast, depending on the situation. I play according to the situation and according to what my team need," Babar said in a pre-match press conference.
Babar discussed the team's initial lack of awareness in India but noted their quick adaptation and planning to face the challenges. He specifically mentioned adjusting to the conditions, emphasizing the importance of middle and end overs in getting runs, acknowledging the struggles faced by batsmen in the middle overs when the ball gets older.
"We came here for the first time, we didn't have the awareness of how to take it, but we adapted as soon as possible in practice, that we will have to face it like this. So, we faced this thing, we took it and planned accordingly that how do we bat here. Because as I said, in the middle and end you get runs. In the middle overs when the ball is old you struggle a bit - as a batsman." he added.
Also read: ICC welcomes one-millionth fan as ODI World Cup 2023 on track to break attendance records
Last Updated Nov 11, 2023, 2:38 PM IST