ICC welcomes one-millionth fan as ODI World Cup 2023 on track to break attendance records
The Cricket World Cup 2023 reaches a historic milestone, welcoming its one millionth fan and poised to break attendance records, showcasing the global resonance of ODI cricket.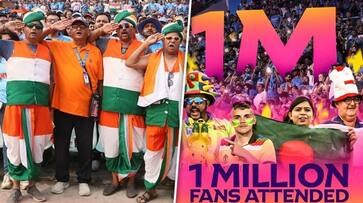 The ongoing ODI World Cup 2023 has achieved a significant milestone by welcoming its one millionth fan, reinforcing its position as a strong contender to become the most attended ICC tournament in history. This remarkable feat occurred during the South Africa vs. Afghanistan match at Narendra Modi Stadium in Ahmedabad, the very venue slated to host the World Cup final on November 19.
Also read: Gratitude exchanged: Indians thank Afghanistan for spirited show, Afghans applaud hospitality post WC exit
On Track for Historic Attendance Record
With six matches yet to be played before the culmination of the 13th edition, the 2023 World Cup is well on track to shatter attendance records, potentially making it the most attended Cricket World Cup ever. The steady influx of cricket enthusiasts demonstrates the global appeal and resonance of the ODI format, emphasizing the profound value placed on World Cup cricket.
Positive Reflections from ICC Head of Events
Chris Tetley, the ICC Head of Events, expressed his satisfaction with the tournament's success so far and anticipates more records being broken as the knockout stage unfolds.
"With over one million attendees and record-breaking viewership, the ICC Men's Cricket World Cup 2023 has reminded cricket fans around the world of the support and interest in the ODI format that highlights how much World Cup cricket is valued," Tetley said.
"As we look ahead to the knockout stages, we look forward to this event breaking more records and showcasing the best about cricket in one day," he added.
Last Updated Nov 11, 2023, 12:23 PM IST