'I disagree': Shikhar Dhawan responds to Rohit Sharma, David Warner's comments
'He's (Shikhar Dhawan) an idiot, what can I say. He doesn't like to face the first ball. He likes to take on the spinners, but he does not like to take on the fast bowlers," Rohit Sharma had told David Warner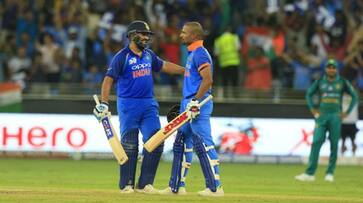 Bengaluru: India opening batsman Shikhar Dhawan has responded to comments made on him by fellow opening partner Rohit Sharma and Australia's David Warner.
Recently, Rohit and Warner were on Instagram live chat session when they discussed various issues. They had disclosed that Dhawan doesn't like to face the first ball of the innings as a fast bowler was bowling but he was fine with it if a spinner was operating.
Also read: Tim Southee speaks on MS Dhoni's run out in World Cup semi-final
During the chat with Rohit, Warner had said, "The only time I remember him (Dhawan) taking the first ball was when Harbhajan was bowling." This was during the Indian Premier League (IPL) when Dhawan played for SRH.
Also read: When Nasser Hussain called Mohammad Kaif 'bus driver'
"He always used to say if there is a left-arm fast bowler then 'you take the strike as I don't want the incoming delivery'," the Australian added.
"He's an idiot, what can I say. He doesn't like to face the first ball. He likes to take on the spinners, but he does not like to take on the fast bowlers," Rohit had told Warner.
Now, the left-handed Dhawan has "disagreed" with Mumbai Indians (MI) captain Rohit and Sunrisers Hyderabad (SRH) skipper Warner.
"No, no I disagree to that. It's not like I don't want to face fast bowlers. Everyone has their views, I am an opening batsman. I have done that role for India for eight years now, so obviously I play the fast bowlers," Dhawan told former India all-rounder Irfan Pathan on Instagram.
"If I do not face them in the first over, then I eventually do in the second over," he added.
The Delhi batsman said he was fine with facing the first ball if he was opening with any youngster. "Yes, I do not like taking strike on the first ball of the match and I am honest about it but if any youngster like Prithvi (Shaw) comes in the side and he is not comfortable taking the first ball then obviously I would take the strike."
"But with Rohit, it started in Champions Trophy where I told him to take the strike and that sort of continued as I don't like to change things much," he explained.
Last Updated May 14, 2020, 4:50 PM IST