ODI World Cup 2023: What Suryakumar Yadav can do, even Virat Kohli and Rohit Sharma can't - Harbhajan Singh
Harbhajan Singh defends Suryakumar Yadav's inclusion in the ODI World Cup 2023 squad, citing his unique abilities in the middle order and stating that SKY should always be in the playing XI.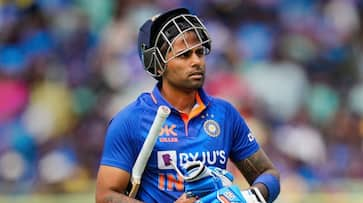 As the announcement of the India squad for the ODI World Cup 2023 came, the inclusion of Suryakumar Yadav in the team raised some eyebrows due to his recent poor form since debuting in the 50-over format for India. Some argued that Sanju Samson should have been selected instead of SKY, given his impressive record in the 50-over format. However, veteran spinner Harbhajan Singh had a different perspective, highlighting Suryakumar's unique capabilities in the middle order.
"I don't think selectors have been harsh on Sanju Samson. Yes, I do feel Sanju is a very, very talented player, but you can only select 15 players. Before Sanju, Suryakumar should play because of the game he has right now. Suryakumar can make significant runs, but Sanju plays a high-risk form of cricket," said Harbhajan during a discussion on Star Sports.
He further emphasised, "People might disagree with me, asking what has Suryakumar done in ODIs? But what Suryakumar Yadav has done in T20Is, given the similar playing time, there's no better player in India at that position. What he can do at that number, even Virat Kohli and Rohit Sharma can't." Harbhajan supported his argument, even though Surya's ODI form had been lackluster.
Harbhajan believes that batting at the No. 5 and No. 6 positions is challenging and sees Surya as having the potential to emulate the past performances of MS Dhoni and Yuvraj Singh.
"Batting at No. 5 and 6 is very tough. Dhoni has done it, Yuvi has done it. Opening is a different ball game, but batting after 30-35 overs, you need to find gaps and hit boundaries. In the entire Indian team, no one can do that better than Suryakumar. I will always pick him in my team," he explained.
He also expressed the view that Surya should always be a part of India's ODI XI, whether or not Samson is in the squad.
"No matter if he does well or not, the pressure of him being a part of the team does fall on the opponents. He can turn out to be a match-winner any day. There should be no debate between him and Sanju Samson. Sanju is there in the team or not, Surya should be in the XI," he concluded.
Last Updated Sep 7, 2023, 9:36 PM IST