ODI World Cup 2023: KL Rahul hopes Indian batters deliver more centuries as mega event goes on
As Virat Kohli joins Rohit Sharma as a century-maker for India in the ODI World Cup 2023, wicketkeeper-batter KL Rahul expresses hope that other players will also contribute with centuries, aiding the team's undefeated streak in the league stage.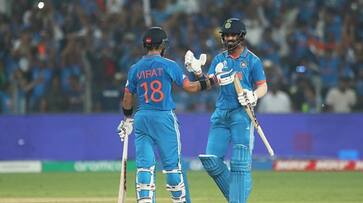 After Virat Kohli's century and Rohit Sharma's previous hundred in the ongoing ODI World Cup 2023, wicketkeeper-batter KL Rahul hopes other players will also achieve centuries to support India's unbeaten run in the league stage. After India captain Rohit Sharma scored 131 against Afghanistan in India's second game in New Delhi, Kohli's 48th century 103 not out off 97 balls (6x4s, 4x6s) against Bangladesh ensured a fourth consecutive win in Pune on Thursday. The team's next challenge will be facing New Zealand, a formidable opponent who has had the upper hand in ICC events.
"Virat, the less you say the better about it. He has been notching up those numbers for years now that is what he did again. There was an opportunity at the end, (and) he finished the game for us," Rahul told the media after India's seven-wicket win over Bangladesh.
Also read: ODI World Cup 2023: Did Bangladesh have intentions to deny India's Virat Kohli a century? Shanto responds
"Getting a hundred is always very special, I am really happy for him. Ro (Rohit Sharma) has got a hundred now, Virat has got a hundred (too). Hopefully, as the World Cup goes (on), a few more of us can get these hundreds and keep winning the matches," Rahul expressed.
Rahul mentioned that despite Bangladesh's openers, Tanzid Hasan (53) and Litton Das (66), capitalizing on the powerplay, India faced minimal trouble as they added 93 runs.
"We knew it was a good wicket and they got off to a good start. We have been in this situation before, not just us, every other team when the openers get off to a really good start and the new ball comes on really nicely on the bat," he said.
"But once the field opens up, it becomes better for the opposition to control the run rate and that is what we did. Once we got a couple of wickets, we were back to building pressure on the batsmen," he said.
Also read: 'Give Bharat Ratna to umpire': Memes after Richard Kettleborough denies wide to help Kohli hi 48th ODI ton
Following their strong start, reaching 90 without losing a wicket in 14 overs, Bangladesh's momentum waned significantly, resulting in them posting a modest score of 256/8. This showcased the formidable challenge of scoring against the Indian bowlers.
"(It was a) good day in the field overall, I did my job quite well. Everyone else did their job really well. (It was a) good fielding day for us as a team. I think we took some really good catches, really good outfield (work) so a tick mark in that aspect of the game," said Rahul.
India has won all four games they've played in the World Cup, whether chasing or setting a target. Rahul stated that they are taking one game at a time and not overthinking their approach.
"Not thinking so much, (we) just want to take one game at a time. Whatever we do, whether we bowl first or bat first, it is important that we do it well and we are not thinking too much about it," he said.
Rahul praised bowler Jasprit Bumrah and called him "super special." He expressed gratitude for having Bumrah on their team and mentioned that Bumrah had spent time at the NCA to recover and strengthen.
Also read: IND vs BAN: Did Umpire Richard Kettleborough help Virat Kohli score 48th ODI century? What MCC laws state
"(He is) super special, really lucky that we have him on our team and lucky that we don't have to break our bats with his yorkers and have to face at the end," Rahul said.
"We have faced him a little bit in the IPL. He is a top quality bowler, really happy that he is back, he is fit. He spent a lot of time at the NCA in recovery and getting stronger," he added.
Last Updated Oct 20, 2023, 11:56 AM IST