IND vs BAN: Did Umpire Richard Kettleborough help Virat Kohli score 48th ODI century? What MCC laws state
The article discusses the controversy surrounding umpire Richard Kettleborough's decision not to call a wide delivery, its impact on Virat Kohli's century, and the recent changes in the Laws of Cricket governing wide balls.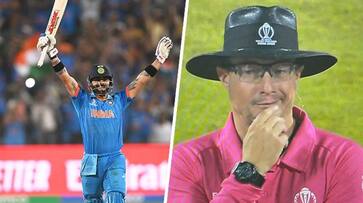 The decision made by umpire Richard Kettleborough, who declined to signal a wide for a delivery from left-arm spinner Nasum Ahmed, despite the ball veering significantly down the leg side during India's ODI World Cup 2023 clash against Bangladesh in Pune on Thursday, has stirred up a massive controversy. This particular call occurred during the 42nd over and played a pivotal role in helping Virat Kohli achieve his 48th ODI century, marking his third century in ODI World Cups. Kohli's century came with a six off the next delivery, sealing India's victory.
The non-wide call by umpire Richard Kettleborough may be linked to a recent modification in the Laws of Cricket. Previously, the MCC Laws of Cricket, specifically clause 22.1.1, outlined how to judge a wide ball. It stated, "If the bowler bowls a ball, not being a No ball, the umpire shall adjudge it a Wide if, according to the definition in 22.1.2, the ball passes wide of where the striker is standing and which also would have passed wide of the striker standing in a normal guard position."
However, in 2022, the MCC introduced a change to Law 22.1.
"In the modern game, batters are, more than ever, moving laterally around the crease before the ball is bowled," MCC said in a statement.
"It was felt unfair that a delivery might be called 'Wide' if it passes where the batter had stood as the bowler entered his/her delivery stride."
"Therefore, Law 22.1 has been amended so that a Wide will apply to where the batter is standing, where the striker has stood at any point since the bowler began their run up, and which would also have passed wide of the striker in a normal batting position."
In this context, since Virat Kohli had shifted his stance and moved before the ball was released, umpire Kettleborough's decision not to call it a wide was in accordance with the revised rules and considered a fair call.
Last Updated Oct 20, 2023, 10:34 AM IST