ODI World Cup 2023: Did Bangladesh have intentions to deny India's Virat Kohli a century? Shanto responds
Bangladesh stand-in captain Najmul Hossain Shanto rubbished suggestions that spinner Nasum Ahmed "intentionally" bowled a wide ball to deny Virat Kohli a century towards the end of India's chase in their ODI World Cup 2023 clash in Pune on Thursday.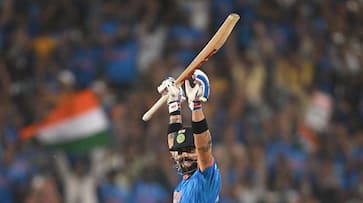 Bangladesh's stand-in captain, Najmul Hossain Shanto, refutes the suggestion that spinner Nasum Ahmed 'intentionally' bowled a wide ball to prevent Virat Kohli from achieving a century in their ODI World Cup 2023 match against India in Pune on Thursday. During the match, Virat Kohli was batting on 97 with nine overs remaining, and India needed only two more runs to reach their target of 257. Ahmed bowled a delivery down the leg side, which surprisingly was not called a wide by the on-field umpire, Richard Kettleborough. A few deliveries later, in the 42nd over, Kohli hit a six, reaching 103 not out and securing India's comfortable victory.
Shanto defended Nasum Ahmed, emphasizing that their intention was to play a 'proper game'. "No, no. There was no such plan. It was a normal plan. No bowler had the intention to bowl a wide ball. We tried to play a proper game. It was not intentional," Shanto told the media.
Also read: 'Give Bharat Ratna to umpire': Memes after Richard Kettleborough denies wide to help Kohli hi 48th ODI ton
Shanto expressed disappointment that their openers, Tanzid Hasan (53) and Litton Das (66), couldn't convert their fifties into larger scores. He noted that taking individual responsibility for building substantial innings was crucial.
"We have had big runs before, but I think we are not taking the responsibility," he said.
"I would say, for those who are getting set here, if Litton or Tanzid could have played 120-130 run innings, it would have been easier for Mushi (Mushfiqur Rahim), (Towhid) Hridoy, or (Mahmudullah) Riyad. The middle-order didn't bat well, as well as those who were set (and) couldn't make runs," he said.
Shanto, who led the team in place of the regular skipper Shakib Al Hasan due to Shakib's quad injury, discussed the team's preparations against the formidable Indian team. "The preparation was very good, to be very honest. The place where we were struggling, the top order, it did well," he said.
With no official update on Shakib's availability, Shanto expressed hope that Shakib would return to the side soon. "He is recovering and he is in good condition. We did not want to take a risk since we have five more matches to go. He is in a good state, a lot better and there is improvement. We hope that maybe he will play in the next match," Shanto hoped.
Also read: IND vs BAN: Did Umpire Richard Kettleborough help Virat Kohli score 48th ODI century? What MCC laws state
Tanzid Hasan, who played an impressive knock and was Bangladesh's top-performing batter in the match, acknowledged the significance of his maiden ODI fifty. However, he also recognized that his individual achievement did not contribute to the team's victory. "I failed in the last three matches but today (Thursday) I could do something. I will try to work on my lackings. If the team does not win, this innings becomes worthless but it feels good if I can contribute for the team," said Tanzid.
Last Updated Oct 20, 2023, 11:39 AM IST