ODI World Cup 2023: Game stays in the mix as India comeback brilliantly after letting New Zealand loose
Both teams will be happy from their point of view after the conclusion of the first inning. India and New Zealand were equally in the game and out of the game in different phases of the first inning on Sunday.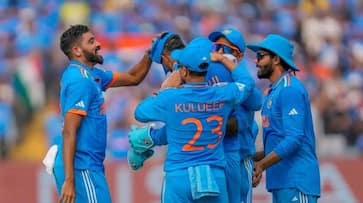 The first inning of the ODI World Cup 2023 match between India and New Zealand saw the wind blow at different sides. Firstly, the men in blue got off to a fine start as Mohammed Siraj and Mohammed Shami gave early breakthroughs of the New Zealand openers.
It was going all good until the Rohit Sharma-led team started shifting away from the momentum. The primary reason behind it was the loose fielding from the Indian players. A fielder as sharp as Ravindra Jadeja dropped an easy catch of Rachin Ravindra.
Also Read: ODI World Cup 2023: India's poor fielding costs big time as Daryl Mitchell completes a fine century
https://newsable.asianetnews.com/cricket-sports/odi-world-cup-2023-india-s-poor-fielding-costs-big-time-as-daryl-mitchell-completes-a-fine-century-avv-s2xifb
The same Rachin Ravindra took advantage of the extra lifeline stayed patiently and built a 159-run partnership with Daryl Mitchell. Even Daryl Mitchell was dropped twice by KL Rahul and Jasprit Bumrah respectively. It wasn't a good day at the office for the Indian fielders.
Mohammed Shami provided a crucial breakthrough once again as Rachin Ravindra got out after scoring an impressive 75 runs. Daryl Mitchell kept going till the last phase of the inning and scored a century. He made the most out of the two lifelines provided by the Indian players.
New Zealand also lost its track after a great partnership between Rachin Ravindra and Daryl Mitchell. The middle order consistently gave away wickets as Kuldeep Yadav pulled one back for India. Tom Latham was out for 5 runs while Mark Chapman was out for 6 runs. Mohammed Shami picked up five wickets as the Kiwis managed to post 273 runs with a loss of ten wickets in 50 overs. Indian spinners and pacers did well in the last 10 overs by slowing down the pace of the in-flowing runs.
Last Updated Oct 22, 2023, 6:02 PM IST