Here is why Virat Kohli-led India lost No. 1 Test ranking to Australia
Here is the reason why the Virat Kohli-led India lost the No. 1 Test ranking to Australia in the latest updated ICC table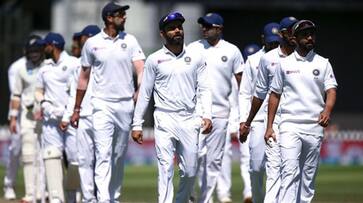 Bengaluru: The Virat Kohli-led India have lost their No. 1 Test ranking to Australia in the latest updated list issued by the International Cricket Council (ICC). Despite being on a roll in recent times in the five-day format, how did India lose the top spot that too when there is no cricket being played? Here is the answer.
On May 1, ICC announced the annual updated rankings. Not only Tests, but ODIs and T20Is too were updated as the world continues to battle the deadly coronavirus (COVId-19). All cricket matches have been suspended due to the virus.
Also read: Exclusive interview with India Test batsman Hanuma Vihari
Australia are the one who have benefited from the annual rankings update. They are now on top of the world in Tests and T20Is.
For the first time since October 2016, India have been displaced from the Test top spot.  Here is the reason for that.
Also read: Virat Kohli reveals 'most loved' international cricketer ever in India
The annual Test ranking update has eliminated results from 2016-17. In the latest update, that rates all matches played since May 2019 at 100 per cent and those of the previous two years at 50 per cent, Australia (116) have taken over from India as the top ranked side in the ICC Men's Test Team Rankings with New Zealand (115) remaining in second place. India are now third with 114 points.
With only two points separating them, this is the second closest the top three teams have been since the Test rankings were launched in 2003. The closest for the top three teams was in January 2016, when India had led Australia and South Africa by a single point.
India are still on top of the ICC World Test Championship (WTC) with 360 points. Australia are second with 296 points followed by New Zealand with 180. Recently, India were whitewashed 0-2 by New Zealand.
The ICC Team Rankings is a rating method developed by David Kendix to rank men's teams playing across Test, One-Day International and Twenty20 International formats and women's teams playing One-Day International and Twenty20 International cricket. This rating is worked out by dividing the points scored by the match/series total, with the answer given to the nearest whole number. It can be compared with a batting average, but with points instead of total runs scored and a match/series total instead of number of times dismissed.
Last Updated May 2, 2020, 11:11 AM IST