ODI World Cup 2023: Shubman Gill focuses on short ball techniques ahead of crucial fixture against England
Indian opener Shubman Gill fine-tunes his technique against short-pitched deliveries, while the team's tailenders prepare to make valuable contributions in an intense training session before their World Cup clash against England.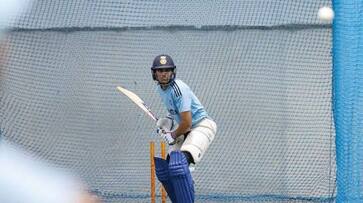 As the sun beat down in Lucknow, Shubman Gill dedicated himself to improving his technique against short-pitched deliveries, while seven Indian cricketers engaged in an intense training session just two days before their World Cup match against England. Gill, who has enjoyed a prolific year with five centuries, has yet to make a significant impact at the World Cup following his recovery from dengue, which caused him to miss the first two matches. In the three games since his return, the stylish opener has scored 26, 53, and 16.
With 1,325 ODI runs and counting this year, Gill has shown promise in all his innings but hasn't capitalized on it. As India strives to maintain its unbeaten streak in the tournament, Gill, who was dismissed while attempting to hit a short and wide ball against New Zealand in Dharamsala, will be expected to deliver a special performance. Notably, Gill has always had a fondness for facing short-pitched deliveries.
Others who took part in the optional practice session included Ishan Kishan, Ravindra Jadeja, Shardul Thakur, Mohammed Shami, and Kuldeep Yadav. Captain Rohit Sharma, Virat Kohli, Jasprit Bumrah, and R Ashwin remained at the team hotel after participating on Thursday.
The reserve opener, Ishan Kishan, also had an extensive batting session. Additionally, just like the previous day, all the bowlers dedicated considerable time to improving their batting skills.
India boasts a lengthy tail that has yet to be tested due to the excellent form of their specialist batsmen. Mohammed Shami, who claimed five wickets in his first appearance in the competition against New Zealand, had a batting session after completing his bowling practice. Meanwhile, Mohammed Siraj reversed the order, focusing on his batting skills after his bowling stint.
Pacer Shardul Thakur and the team's premier spinner, Kuldeep Yadav, also honed their batting abilities in the sweltering conditions.
Towards the end of the training session, head coach Rahul Dravid carefully examined the red soil pitch. A portion of the square was resurfaced for the World Cup, as earlier this year, Hardik Pandya had criticized the pitch as a "shocker" following a T20 game against New Zealand.
Also Read: Hardik Pandya's absence adds complexity to Ashwin's inclusion in upcoming clash with England
Last Updated Oct 27, 2023, 5:57 PM IST