ODI World Cup 2023: Shadab Khan expresses confidence in rediscovering form at the mega event
Pakistani all-rounder Shadab Khan addresses his recent bowling form challenges and expresses hope for improvement as the Cricket World Cup approaches.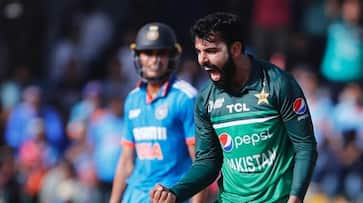 Acknowledging a recent slump in his bowling performance, Pakistani all-rounder Shadab Khan remains optimistic about his ability to bounce back. The vice-captain of the Pakistan cricket team has secured 13 wickets in 11 ODIs this year, a statistic that reflects his struggle for consistency.
Addressing the issue in a press conference held in Hyderabad, Shadab Khan stated, "I am fully aware of my recent form not being up to par, but I have the necessary skills to overcome this challenge. It's more of a mental setback when you're not performing well, but I am feeling good and after receiving some rest, I've experienced a shift in my mental approach, and I'm hopeful that we will deliver a strong performance in the upcoming World Cup."
Out of the 13 wickets he secured this year, four were claimed in a match against Nepal during the Asia Cup. Nevertheless, his overall performance in that tournament left much to be desired. Speaking about the Asia Cup experience, Shadab said, "From a cricketing perspective, the Asia Cup didn't go as planned, but cricket teaches us to learn from our mistakes and seize opportunities for improvement. Following our disappointment in the Asia Cup, we had a much-needed break. I believe that, at this point, it's not just about skills; it's a mental game, especially with the World Cup approaching. When you're mentally relaxed, you make better decisions."
While expressing his own optimism, Shadab also voiced support for Fakhar Zaman, who has faced challenges in scoring runs. Fakhar did not get a chance to bat in the opening warm-up match against New Zealand on October 29.
Shadab expressed his confidence in Fakhar, saying, "Fakhar Zaman is a vital player for our team, and his performances often lead to our victories. He has scored three centuries this year, all contributing to our wins. We have complete faith in his abilities, and he is undoubtedly a world-class player."
Pakistan's World Cup journey begins with their first two matches in Hyderabad, followed by seven league stage fixtures at various venues in Bengaluru, Kolkata, Chennai, and Ahmedabad. Shadab emphasized the importance of quick adaptation to changing conditions and the need for maintaining peak fitness levels, especially considering the Asia Cup saw injuries among fast bowlers. Pakistan has already lost one of their key bowlers, Naseem Shah, due to a shoulder injury.
Also Read: ODI World Cup 2023: Team India arrives in Thiruvananthapuram without Virat Kohli
Commenting on the conditions and fitness challenges, Shadab stated, "The conditions will vary as we play in different venues, and we must adapt swiftly. Fitness will be a concern for all teams, given the tournament's length, but we hope to avoid such issues, having already lost one of our key players."
Following New Zealand's impressive chase of Pakistan's 345/5 in just 44 overs during a warm-up game, Shadab highlighted the significance of strong bowling performances in winning the World Cup.
In his words, "In my view, the team with the strongest bowling unit will clinch the World Cup. Given the conditions, containing batsmen and taking wickets on flat tracks with small boundaries will be a challenge. Therefore, I believe the team that excels in bowling will emerge as champions. We have a world-class bowling lineup, and if we perform well as a unit, we can secure the title."
Also Read: ODI World Cup 2023: Yuzvendra Chahal opens up about his omission from the Indian squad
Last Updated Oct 2, 2023, 1:16 PM IST