ODI World Cup 2023: Mitchell Starc anticipates a thrilling showdown in finals against India
As the Cricket World Cup reaches its pinnacle, Mitchell Starc foresees a thrilling battle in the final between Australia and India at Ahmedabad's iconic stadium.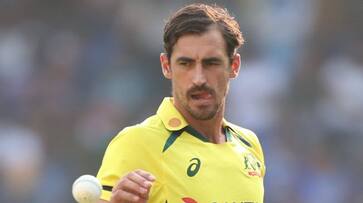 Mitchell Starc envisions a thrilling display of cricket in the World Cup final against India on Sunday at Ahmedabad's 130,000-capacity stadium. Australia, five-time champions, secured their place in the final by narrowly defeating South Africa by three wickets in a tense chase of 213 in Kolkata on Thursday, marking their eighth World Cup final appearance. Starc, who played a pivotal role with figures of 3-34 in bowling out South Africa for 212, expressed the significance of the occasion, stating, "It's a big occasion, it's a World Cup final."
Acknowledging the familiarity of both teams with high-stakes matches, having previously faced each other in the World Test Championship Final earlier in the year, Starc anticipates a vibrant atmosphere. Reflecting on the teams' history in the tournament, he noted, "Both teams played each other in the (World Test Championship) Final earlier in the year. I don't think either changing room is new to big occasions. It's going to be loud. No doubt there's going to be different amounts of pressure at different times on both teams. I think it's just going to be a great spectacle of cricket."
India, led by Rohit Sharma, enters the final with a perfect record of 10 wins from 10 games, making them strong favorites to secure their third World Cup title and second at home after 2011. Starc acknowledged India's exceptional performance in the tournament, stating, "They've been the best in the tournament so far, and we both find ourselves in the finals."
Australia's journey in the tournament has been marked by initial losses to India and South Africa, followed by a remarkable comeback with seven consecutive victories in the league matches. Starc emphasized the significance of facing India in the final, commenting, "What a place to be at the end of a World Cup."
Despite facing challenges in their semi-final against South Africa, where Australian batsmen struggled before a late rally led by Steve Smith, Josh Linglis, Starc, and Pat Cummins secured the win, Starc remains optimistic about the upcoming final. He acknowledged the potential threat posed by Indian spinners Kuldeep Yadav and Ravindra Jadeja and added a touch of humor regarding the pitch conditions in Ahmedabad.
As excitement builds for the final after six weeks of intense cricket action across India, South Africa coach Rob Walter expressed a contrasting sentiment, stating, "To be honest, there's about a 1% chance I'll be watching. And to be even more brutally honest, I actually don't care."
Also Read: AUS vs SA: Young fan repeating iconic Sourav Ganguly jersey celebration in Kolkata wins hearts (WATCH)
Last Updated Nov 17, 2023, 12:33 PM IST