AUS vs SA: Young fan repeating iconic Sourav Ganguly jersey celebration in Kolkata wins hearts (WATCH)
Australia overcame a spirited challenge from South Africa by three wickets in the second semifinal of the ODI World Cup 2023 in Kolkata on Thursday to set up a title clash with hosts India.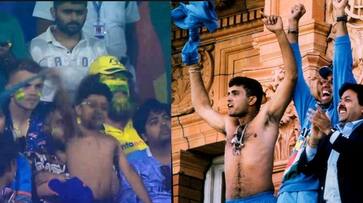 In a thrilling encounter at the ODI World Cup 2023 semifinals at Eden Gardens in Kolkata on Thursday, Australia secured a hard-fought victory against South Africa, earning themselves a spot in the finals against hosts India. However, amidst the intense cricketing action, the echoes of cricket history reverberated through the stands, as a young fan paid homage to former Indian captain Sourav Ganguly's iconic jersey-waving celebration at Lord's in 2002.
Also read: ODI World Cup 2023: Season of heartbreaks continues for South Africa as Australia enter their 8th final
The scene unfolded on July 13, 2002, when India, led by the charismatic Ganguly, pulled off a stunning victory against England in the Natwest Series final. The young fan, fueled by pure passion and the excitement of the moment, recreated Ganguly's famous gesture as Australia clinched the semifinal win against South Africa.
The semifinal match itself was a rollercoaster of emotions. South Africa, after a shaky start, rallied back courtesy of a heroic century by David Miller. His remarkable innings, filled with elegant strokes and powerful hits, lifted the Proteas to a competitive total of 212. However, Australia, true to their resilient nature, overcame the spirited challenge, led by Travis Head's aggressive batting and David Warner's explosive start.
Brief score:
South Africa: 212 all out in 49.4 overs (David Miller 101, Heinrich Klaasen 47; Pat Cummins 3/51, Mitchell Starc 3/34, Josh Hazlewood 2/12).
Australia: 215/7 in 47.2 overs (Travis Head 62; Tabraiz Shamsi 2/42, Gerald Coetzee 2/47, Keshav Maharaj 1/24).
While the players battled it out on the field, the young fan in the stands paid a fitting tribute to one of India's most iconic cricketing moments. Sourav Ganguly's jersey-waving celebration at Lord's had become etched in the memories of cricket enthusiasts, symbolizing a moment of triumph and sheer audacity. The young fan, donned in the Indian jersey, replicated Ganguly's gesture, waving the tricolor with exuberance and pride.
This heartwarming tribute serves as a testament to the enduring impact cricketing legends like Ganguly have on fans across generations. Cricket is not merely a sport; it's a tapestry of shared moments, emotions, and celebrations that connect fans to the essence of the game.
As the World Cup 2023 final approaches, the young fan's homage to Sourav Ganguly becomes a symbolic link between the glorious past and the promising future of cricket. Regardless of the outcome on the field, the spirit of the game lives on through the heartfelt gestures of passionate fans, ensuring that each match is not just a contest but a celebration of cricket's rich history.
Also read: Iconic jersey exchange: David Beckham and Rohit Sharma's memorable moment post the semi final in Wankhede
Last Updated Nov 16, 2023, 10:40 PM IST