ODI World Cup 2023: Injury cloud looms over Ben Stokes for England's opener against New Zealand
England's World Cup opener against New Zealand might see the absence of star player Ben Stokes, who is down with a hip injury.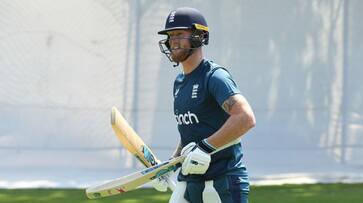 The highly anticipated opening match of the 2023 World Cup between England and New Zealand may proceed without star all-rounder Ben Stokes due to a hip injury. Stokes, who emerged from one-day international retirement to aid England's title defense, missed their final warm-up game against Bangladesh. Captain Jos Buttler confirmed Stokes was working closely with physiotherapists but expressed caution, acknowledging the risk of playing him in the initial group stage matches.
Buttler stated, "He's dealing with a minor hip issue. If he's not fit to play, we won't take the risk. We might consider it later in the tournament." With Kane Williamson also sidelined due to injury, England faces a challenging scenario. The potential replacement for Stokes could be Harry Brook, a talented 24-year-old batter in the squad. Brook's skills make him well-suited for the one-day format, offering stability and the ability to build significant innings.
Meanwhile, New Zealand's Tim Southee is unavailable after a recent thumb operation, and Williamson's return remains uncertain following a previous injury. Tom Latham will stand in as captain, hoping for Southee's swift recovery as the tournament progresses.
Also Read: Hyderabad biryani vs Karachi biryani grips World Cup 2023: Pakistan team rate the iconic dish (WATCH)
Last Updated Oct 4, 2023, 6:30 PM IST