Hyderabad biryani vs Karachi biryani grips World Cup 2023: Pakistan team rate the iconic dish (WATCH)
As the countdown to the World Cup 2023 almost ends, the Pakistan cricket team adds a flavourful twist to their preparations by engaging in some biryani tasting in Hyderabad.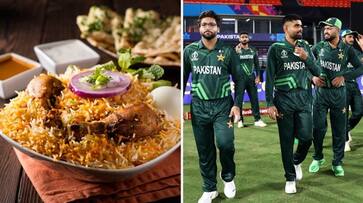 The culinary rivalry between Hyderabad biryani and Karachi biryani has taken center stage as the Pakistan cricket team prepares for the highly anticipated World Cup 2023, set to commence on October 5th. In a lighthearted yet culturally significant video, team members engaged in a tasting and rating session of these iconic biryani dishes.
Biryani, a cherished South Asian delicacy, boasts diverse regional variations, each with its own devoted following. The playful competition between Hyderabad and Karachi biryani enthusiasts has been a long-standing tradition, with both cities staunchly defending their biryani recipes.
The video captures the players' candid reactions and friendly banter as they savor the aromatic and flavorful dishes. Beyond the fun rivalry, this culinary showdown underscores Pakistan's rich cultural diversity and unity through a shared love for food. It serves as a delightful reminder that cricket and cuisine are two passions that bring the nation together, fostering a sense of camaraderie and excitement as the World Cup approaches.
Last Updated Oct 4, 2023, 5:00 PM IST