ODI World Cup 2023: England ends losing streak with desperate win over Netherlands in Pune
Jos Buttler's England cricket team achieved a much-needed victory, breaking a five-match losing streak, in their match against the Netherlands in the World Cup 2023.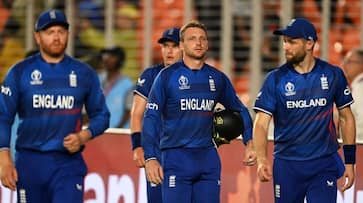 Jos Buttler expressed the sheer desperation for a victory after England managed to break their five-match losing streak with a significant win over the Netherlands. The World Cup campaign for the defending champions had been nothing short of disastrous, and this win provided a glimmer of hope. While England had already been eliminated from the tournament, their commanding 160-run victory over the Dutch breathed new life into their chances of qualifying for the 2025 Champions Trophy in Pakistan. The top 8 teams in the World Cup secure a spot in the ICC event. Buttler will continue to led England after the World Cup as well.
Buttler, the England skipper, reflected on the team's determination to win, acknowledging the contributions of key players. He praised Dawid Malan for getting the team off to a flying start and highlighted the fantastic partnership between Ben Stokes and Chris Woakes. Buttler was particularly impressed by Stokes, who consistently stepped up when needed.
England finally found their batting rhythm, posting a total of 339 for nine, which was a welcome change. Woakes, who was effective with the new ball, also made a valuable contribution with the bat, scoring 51 runs off 45 balls. Buttler commended Woakes for his all-round abilities and the high-class swing bowling that he delivered, believing he deserved more than the one wicket he claimed.
As the final league game against Pakistan on November 11 approaches, Buttler emphasized the significance of the match, even in the face of a disappointing tournament. He recognized that this game held great importance for the team.
Ben Stokes, reflecting on his personal performance, focused on the overall victory and the challenging World Cup journey. He expressed his satisfaction with the win, stating that he had made the most of a favorable batting surface. Stokes highlighted the importance of his partnership with Woakes and how they managed to handle pressure by taking it deep into the innings. He praised Woakes as a genuine all-rounder for England, acknowledging his consistent excellence over the past few years, particularly in this crucial match.
Also Read: Vini Raman's heartwarming instagram tribute to Glenn Maxwell's record-breaking knock
Last Updated Nov 9, 2023, 12:59 PM IST