ODI World Cup 2023: David Warner expresses frustration on DRS decisions against SL; Calls for transparency
Australian cricket veteran David Warner recently voiced his frustration and annoyance regarding a Decision Review System (DRS) call that went against him during a crucial World Cup match against Sri Lanka.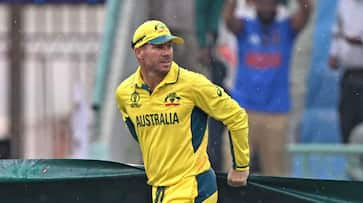 According to a report, David Warner, the experienced Australian opener, voiced his annoyance and frustration regarding a DRS decision that went against him during Australia's World Cup match against Sri Lanka. The left-hander, who was batting at 11, was adjudged LBW to Sri Lanka's Dilshan Madushanka. Despite opting for a review, the DRS ruling favoured the on-field umpire's initial decision, leading Warner to express his dissatisfaction.
He emphasized the need for increased transparency and accountability within the DRS system, stating that he has never received a comprehensive explanation of how the technology functions. Warner believed that a clearer understanding of the technology could influence players' decisions on whether or not to use the review system.
Additionally, he pointed out discrepancies between the ball-tracking and what he observed on the replay screen, raising concerns about the extended duration of ball-tracking judgments compared to the process in Australia. While Warner's emotional reaction during the match drew attention, he clarified that his outburst was driven by frustration with the technology rather than intentional misconduct.
"I've never had Hawk-Eye come in and explain to us how the technology actually works, it's just for the TV," the 36-year-old was quoted as saying by 'cricket.com.au' after Australia's five-wicket win over Sri Lanka on Monday.
"If they could come in and explain to us how it works, then sometimes we might (choose) not to refer or to refer."
According to the report, Warner suggested that the ball-tracking did not match what he saw on the ground's replay screen after he called for the review.
"I asked Joel (field umpire) when I was out there just what happened, why did he give it out. He said the ball was swinging back so to his credit, if he thinks that then that's why he's given a decision.
"(The ball) kept low and normally when something hits me on the leg on the outside, I know it's pretty much going down leg. So he (Wilson) said it was swinging back, (but) from my perspective on the replay, it wasn't," he said.
"When you see the replay of how it unfolded you get a little bit annoyed, (but) that's out of our control."
Also Read: ODI World Cup 2023: How Netherlands' 'chit strategy' played a role in win over South Africa
Warner also felt that ball-tracking verdicts were "taking a lot longer than what it would be in Australia".
"At the moment, we seem to be waiting for (ball-tracking)," said Warner.
"And as a player you get more frustrated because you think: 'did they line it up, what's the impact points, how many impact points are there before it goes on'.
"In England, the ball bounces and it actually moves once it's bounced, not just off the seam but in the air it can move, so there's just little things that as a player you get frustrated because there's no explanation but there has to be some accountability."
The ICC has not announced any sanction for Warner's outburst but he insisted his furious reaction was due to his frustration with the technology.
"I just sprayed out loud in frustration pretty much just (to) myself," said Warner.
Also Read: ODI World Cup 2023: Dutch cricket team shatters records with historic upset against South Africa
Last Updated Oct 18, 2023, 5:36 PM IST