ODI World Cup 2023: Dutch cricket team shatters records with historic upset against South Africa
In a spectacular display of skill and determination, the Netherlands cricket team achieved a historic victory, stunning South Africa in a thrilling World Cup encounter. Captain Scott Edwards emphasized their potential to conquer any opponent by playing their best brand of cricket.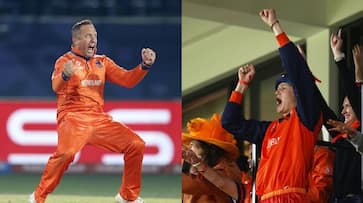 We possess the capability to defeat any team if we exhibit our optimal style of cricket," stated Dutch captain Scott Edwards after a remarkable upset victory over South Africa. This historic triumph was no mere chance occurrence; the Netherlands team has the potential to emerge victorious against any opponent in the ongoing World Cup as long as they perform at their peak, according to Edwards.
The Dutch caused a major upset by defeating South Africa by 38 runs during their round-robin league encounter on Tuesday, marking their first-ever victory against a Test-playing nation in World Cup history. The match was shortened to a 43-over-a-side game due to rain.
"We approach every match with our strategic plans, aiming to execute our game in the best possible way. Our focus is on playing the cricket that defines us, and we firmly believe that if we perform at our best on the given day, we can overcome any opposition," stated Edwards during the post-match press conference.
This win was the Netherlands' third victory in a 50-over World Cup and their first in 16 years. Their initial win came against Namibia in the 2003 edition in South Africa, followed by a victory against Scotland in the 2007 edition in the West Indies.
The Netherlands earned their spot in the main tournament in India through the qualifying round, and Edwards emphasized that their team didn't enter the competition just to make up the numbers. "Absolutely. We set our sights on our objectives for this tournament soon after qualifying. Our purpose here is not merely to enjoy the experience; we're here to win cricket matches and increase our chances of progressing to the next stage," expressed Edwards.
Acknowledging South Africa's formidable strength, Edwards, the 27-year-old wicketkeeper, highlighted the importance of beating such strong teams to secure a spot close to the semi-finals. He said, "South Africa is undoubtedly a formidable team and a strong contender for the semi-final spot. If we aspire to be in that league, we must defeat teams of this caliber."
During the match, the Dutch team faced a challenging situation at 140 for seven in the 34th over. However, Edwards led a remarkable recovery by scoring an unbeaten 78 off 69 balls, steering his team to a competitive total of 245 for eight. Subsequently, they bowled out South Africa for 207 in 42.5 overs.
When asked about the crucial moments during their batting innings, Edwards emphasized the team's collective ethos of total cricket, highlighting that every player, even those coming in at lower batting positions, holds the ability to contribute significantly. Edwards mentioned, "As a team, we pride ourselves on playing comprehensive cricket, where even players batting at numbers 8, 9, and 10 possess the skills to build crucial partnerships. When I batted with them out there, our goal was to set ourselves up for a stronger finish in the innings. Fortunately, Roelof (van der Merwe) and Aryan (Dutt) played outstanding cameo innings, helping us reach what we considered a competitive score."
Top 5 wicket-takers in the ICC Men's World Cup so far
Last Updated Oct 18, 2023, 12:22 PM IST