ODI World Cup 2023: How Netherlands' 'chit strategy' played a role in win over South Africa
In a surprising turn of events at the ongoing World Cup 2023, the Netherlands, known as underdogs, pulled off an impressive upset, defeating South Africa by 38 runs in a rain-interrupted 43-overs match.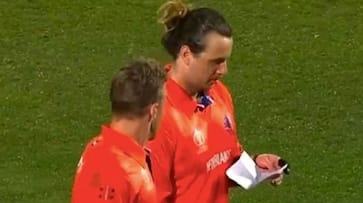 After Afghanistan's astonishing victory over the defending champions England last week, the Netherlands, considered underdogs, achieved yet another upset during the ongoing World Cup. In a rain-interrupted 43-overs match in Dharamsala, they surprised South Africa by defeating them with a 38-run margin. Netherlands' captain, Scott Edwards, showcased an exceptional unbeaten innings of 78, steering his team to a total of 245-8 before successfully bowling out the third-placed South Africa for 207. Intriguingly, during South Africa's batting innings, the Dutch players were seen referring to certain instructions from a piece of paper, a picture of which has gone viral on social media.
Former Indian all-rounder, Irfan Pathan, extended his congratulations to the Netherlands for this historic victory. However, he humorously inquired about the contents of the instructions written on the piece of paper, adding a playful touch to his message. Pathan tweeted, "Congratulations Netherlands on your historic win. Your discipline, especially in bowling, was commendable. What's written in that note???"
Sachin Tendulkar, a legendary batsman, also applauded the Dutch team for pulling off another upset in this intriguing World Cup. Notably, this victory wasn't the first time the Netherlands surprised South Africa at a global event, as they had previously outplayed the Proteas in the T20 World Cup last year.
Australia-born Scott Edwards expressed confidence in his team's abilities, stating that they approach every game with their unique strategies and believe that playing their best brand of cricket can lead to victory against any team in the tournament.
"The World Cup continues to deliver surprising outcomes! It was impressive to witness Netherlands' Captain Scott Edwards display excellent leadership with a fighting innings, especially after their challenging position at 140/7. Their ability to apply pressure on the South African batters stood out in the field. A memorable win for them!", acknowledged the cricketing icon, Sachin Tendulkar.
Also Read: ODI World Cup 2023: South Africa's coach analyses shock defeat to Netherlands in mega event
Last Updated Oct 18, 2023, 4:58 PM IST