MS Dhoni joins Ganesh Chaturthi celebration amid World Cup excitement - Watch
In a delightful moment, former India cricket captain MS Dhoni takes part in Ganesh Chaturthi festivities, adding a unique chapter to his storied cricket career.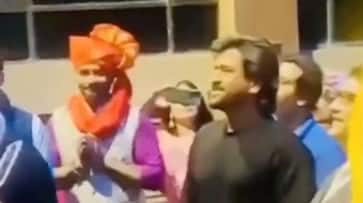 MS Dhoni, celebrated for leading the Indian cricket team to victories in the 2011 ODI Cricket World Cup and the 2007 T20 Cricket World Cup, is renowned as one of the most astute minds in world cricket. His positive demeanor can light up any place. Despite retiring from international cricket, Dhoni continues to be a prominent figure in the Indian Premier League, representing the Chennai Super Kings. With the 2023 ODI Cricket World Cup approaching, cricket fans across India are hopeful that the Rohit Sharma-led team can replicate the success achieved by Dhoni's squad in the 2011 edition.
In a unique sighting, MS Dhoni recently participated in a procession celebrating Ganesh Chaturthi 2023, showcasing a different facet of his personality. The video capturing this moment has gained widespread attention.
Speaking about the upcoming Cricket World Cup, the expectations of the nation rest on Rohit Sharma and his team. India has not clinched an ICC event since 2013, and the Cricket World Cup at home presents an excellent opportunity to end this drought. Playing on home turf carries immense pressure, and former Australian wicketkeeper Adam Gilchrist, a Cricket World Cup winner himself, offered special advice to the Indian cricket team.
Also Read: Mohammed Siraj reclaims no.1 spot in ICC ODI rankings after Asia Cup 2023 triumph
In response to a question regarding advice for young players like Shubman Gill and Ishan Kishan, who will be playing their first ODI World Cup on home soil, Gilchrist suggested seeking insights from cricket legends such as Sachin Tendulkar and MS Dhoni if they are available. He emphasized the importance of tapping into the experiences of players like Yuvraj Singh, who faced numerous challenges during the 2011 tournament, and learning from their journeys.
India's final preparations for the Cricket World Cup at home include a three-match ODI series against Australia starting on September 22. Following this, they will engage in WC warm-up matches against England on September 30 and the Netherlands on October 3. The official Cricket World Cup campaign commences on October 8 as India faces Australia in Chennai.
Also Read: ODI World Cup 2023: Internet buzzes with approval for Team India's unique jersey for mega event
Last Updated Sep 21, 2023, 8:00 PM IST