ODI World Cup 2023: Internet buzzes with approval for Team India's unique jersey for mega event
The excitement is building for the Cricket World Cup 2023, with fans celebrating India's distinctive jersey design. Meanwhile, cricket legend Kapil Dev lauds the Indian cricket team's remarkable performance, particularly the outstanding display by pacer Mohammed Siraj in the Asia Cup.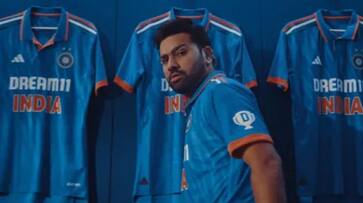 The internet has given its approval to India's Cricket World Cup jersey, which features a unique twist. Watch out for the upcoming Cricket World Cup as the focus is on the Indian cricket team led by Rohit Sharma. In 2011, the last time India hosted the Cricket World Cup, MS Dhoni's team made history with a memorable victory, marking India's second ODI Cricket World Cup win after Kapil Dev's side's triumph in 1983. The anticipation is high as fans hope for Rohit Sharma's team to secure a third ODI Cricket World Cup Trophy when the tournament commences on October 5, with players like Virat Kohli and Rohit Sharma in the spotlight.
The Board of Control for Cricket in India (BCCI) recently shared a video featuring the Indian cricket team, and many fans believe it showcases the official jersey for the upcoming Cricket World Cup. Notably, the jersey in the video displays tricolored stripes on the shoulder, distinguishing it from the one India wore during the Asia Cup, which featured three white stripes.
Kapil Dev, the legendary Indian all-rounder and World Cup-winning captain, expressed his admiration for the Indian team, particularly highlighting the outstanding performance of pacer Mohammed Siraj, who played a pivotal role in India's victory in the Asia Cup. After Siraj's impressive bowling figures of 6/21 dismantled the Sri Lankan team, Shubman Gill and Ishan Kishan's flawless fifty-run partnership ensured India secured the Asia Cup title with a ten-wicket victory.
Kapil Dev praised the current trend of fast bowlers taking all 10 wickets in subcontinental conditions, a departure from the past reliance on spinners. He emphasised the importance of India qualifying for the ICC Cricket World Cup semi-finals at home, prioritising this goal over labeling India as favourites. Kapil Dev expressed his desire for the Indian team not just to win the World Cup but also to dominate the tournament, highlighting their readiness to compete and succeed on the global stage.
Also Read: Mohammed Siraj reclaims no.1 spot in ICC ODI rankings after Asia Cup 2023 triumph
Last Updated Sep 21, 2023, 12:12 PM IST