India vs Australia 3rd ODI: Virat Kohli and Rohit Sharma eye historic milestones
In an eagerly anticipated ODI clash between India and Australia, cricket fans are on the edge of their seats as Virat Kohli and Rohit Sharma make their return to the Indian lineup.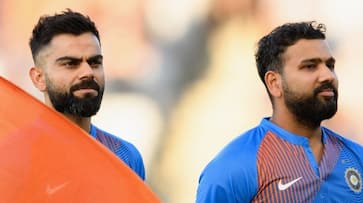 The much-anticipated return of cricket titans Virat Kohli and Rohit Sharma to India's playing XI for the 3rd and final ODI against Australia is creating a buzz in the cricketing world. Rested for the first two victorious matches, their presence is expected to fortify India's lineup. While this match is a dead rubber, it presents the team management with a golden opportunity to test the exact combination they plan to deploy in the upcoming World Cup next month. In addition to the thrilling contest, Rohit and Kohli have their sights set on achieving a remarkable milestone, one that could see them match the legendary Sachin Tendulkar's record.
Both of these Indian cricketing maestros have consistently dominated Australia in ODIs, boasting impressive statistics. Rohit Sharma has notched up 2251 runs at an average of 59.2, while Virat Kohli has scored 2172 runs at an average of 53.0 in the 50-over format. Remarkably, Rohit Sharma recorded his first-ever double century against Australia in ODIs back in 2013, making him the second-highest average holder (59.2), while Virat Kohli ranks fourth (53.0) among batters with 1000+ runs against Australia in ODIs.
Furthermore, both Rohit and Kohli have accumulated eight centuries against Australia in ODIs. A single century in the upcoming match would see them equal Sachin Tendulkar's record of nine centuries against the Aussies in ODIs.
Notably, Virat Kohli is also on the brink of a remarkable record for the most sixes in international cricket, with 545 sixes to his name, merely 9 sixes away from claiming the top spot (across all formats). Rohit Sharma, renowned for his effortless six-hitting ability, has hit the most sixes (78) against Australia in ODIs, ranking second overall for most sixes against any opposition in one-day cricket.
Virat Kohli's affinity for facing Australia is well-documented, as he has amassed over 5,000 runs in international cricket against the formidable Australian side. In this context, he stands as one of only three players to achieve 5000+ runs against a single opposition.
Moreover, Virat Kohli's pursuit of the record for the most centuries in ODIs is captivating. With 47 centuries in ODI cricket, he is tantalizingly close to eclipsing Sachin Tendulkar's record of 49 centuries, and the upcoming ODI World Cup 2023 may witness this historic milestone.
As cricket enthusiasts eagerly await this historic showdown, all eyes will be on Virat Kohli and Rohit Sharma, two modern-day legends, as they continue to etch their names in the annals of cricketing history.
Also Read: Asian Games 2023: Nepal's Dipendra Singh sets new record of the fastest T20I fifty; Smashes six sixers - WATCH
Last Updated Sep 27, 2023, 2:39 PM IST