Asian Games 2023: Sai Kishore in tears during national anthem goes viral; Dinesh Karthik responds (WATCH)
R Sai Kishore's emotional moment during the national anthem in his Asian Games debut match against Nepal captured hearts as he shed tears of pride. Cricketing stalwart Dinesh Karthik took to social media to laud Sai Kishore's incredible journey and celebrate his well-deserved place in the Indian cricket team.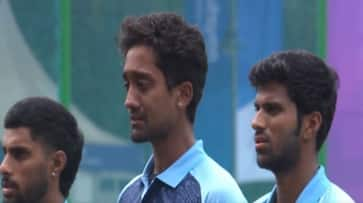 R Sai Kishore of India overwhelmed during National Anthem at the Asian Games. In his debut match for India against Nepal in the Asian Games quarter-final, R Sai Kishore, the domestic cricket star, couldn't hold back his emotions during the national anthem. As both teams lined up before the match in Hanzhou, the national anthems of both countries played, and tears welled up in Sai Kishore's eyes. This touching moment was widely shared on social media, with fans expressing their joy for him. Dinesh Karthik also joined in, offering his congratulations to Sai Kishore on his achievement.
During his four overs of bowling for India, Sai Kishore took a solitary wicket, that of Nepal's opener Kushal Bhurtel, while conceding 25 runs in a high-scoring contest.
On social media, Karthik praised Sai Kishore's journey, considering his India cap as a well-deserved reward for years of hard work.
"God has his ways of rewarding hardworking individuals. This incredible player, @saik_99, who has been a dominant force in white-ball domestic cricket, is an absolute superstar, and I couldn't be happier for him.
When I woke up in the morning and saw his name in the playing 11, I was overcome with emotion. He was always at the top of my list of people I wanted to succeed.
His remarkable improvement in batting speaks volumes about his dedication. From being someone with limited batting skills, he has transformed into a reliable player in all formats. I could go on and on about him, but for now, I'm just thrilled to see him become an Indian cricketer, and that's an achievement that can never be taken away from him. Go well, Sai," Karthik wrote.
India clinched a comfortable 23-run victory over Nepal, with Yashasvi Jaiswal shining as the standout performer with a century, marking his first in T20 internationals.
Also Read: Jaiswal's century and Rinku's fireworks propel India to victory in the quarterfinals against Nepal
Last Updated Oct 3, 2023, 12:09 PM IST