Asia Cup 2023, India vs Sri Lanka: Rohit Sharma joins elite club after crossing 10,000 ODI runs milestone
Rohit Sharma has etched his name in history, reaching the remarkable milestone of 10,000 runs in One Day Internationals (ODIs).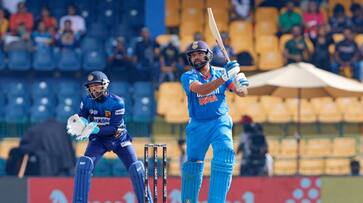 Rohit Sharma has etched his name in the annals of Indian cricket history by surging past the 10,000-run milestone in One Day Internationals (ODIs). This monumental achievement catapults him into an elite club of illustrious Indian batsmen, where only the legendary Sachin Tendulkar and the indomitable Virat Kohli have ventured before him.
Rohit Sharma, donning the captain's armband for the Indian cricket team, notched up this extraordinary milestone during a recent ODI clash. In doing so, he became the second-fastest Indian cricketer to achieve this monumental feat, with the inimitable Virat Kohli leading the pack. Rohit accomplished this staggering milestone after just 241 innings, while Kohli had achieved the same feat in a mere 205 innings, showcasing their extraordinary prowess with the bat.
For perspective, Sachin Tendulkar, widely regarded as one of the greatest cricketers of all time, reached the 10,000-run mark in ODIs after 259 innings. The formidable Sourav Ganguly followed suit, achieving the milestone in 263 innings, while the Australian cricketing legend Ricky Ponting took 266 innings to reach this hallowed territory. Thus, Rohit's rapid ascent to the 10,000-run club is a testament to his remarkable consistency and ability to rack up runs at a remarkable pace.
Also Read: Asia Cup 2023, India vs Pakistan: KL Rahul was asked to get ready 5 minutes before toss, reveals Rohit Sharma
Notably, Rohit Sharma's journey to 10,000 ODI runs is a path trodden by only a select few in the history of Indian cricket. Apart from Rohit, a mere five other Indian batsmen have managed to amass this significant tally of runs in ODI cricket. This exclusive club includes the likes of Sachin Tendulkar, Sourav Ganguly, Rahul Dravid, Virat Kohli, and Yuvraj Singh, all of whom have etched their names in the record books with their incredible batting exploits.
As if this milestone weren't enough, Rohit Sharma continues to dazzle on the cricketing stage. In a recent match against Sri Lanka, the Hitman showcased his sublime form by not only achieving the 10,000-run landmark but also by bringing up a well-deserved half-century in a spectacular display of his batting prowess. Rohit Sharma's journey to cricketing greatness continues to captivate fans worldwide, as he cements his legacy as one of India's most iconic and prolific ODI batsmen.
Also Read: Asia Cup 2023: Shreyas Iyer's misses Super 4 clash against Sri Lanka due to back spasm
Last Updated Sep 12, 2023, 7:09 PM IST