Asia Cup 2023: Shreyas Iyer's misses Super 4 clash against Sri Lanka due to back spasm
Shreyas Iyer's journey to full recovery from a back spasm continues as he regrettably sits out of India's crucial Super 4 match against Sri Lanka in the ongoing Asia Cup 2023.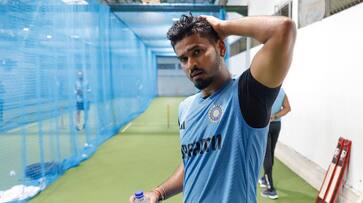 Indian cricket fans eagerly awaiting Shreyas Iyer's return to the field will have to exercise a bit more patience. The talented batsman, who recently battled a back spasm, is indeed on the path to recovery but has not yet reached the point of full fitness. Consequently, the Board of Control for Cricket in India (BCCI) Medical Team has recommended a bit more rest for the player.
As a result of this medical advice, Shreyas Iyer did not travel with the team to the stadium for India's crucial Super 4 match against Sri Lanka. While Iyer's absence is undoubtedly felt, the decision to prioritize his health and recovery aligns with best practices for player well-being.
The Back Spasm Setback
Shreyas Iyer's back spasm was an unfortunate setback during the ongoing Asia Cup 2023. This injury had led to his withdrawal from the blockbuster India vs. Pakistan encounter, where KL Rahul admirably filled his shoes and contributed significantly to India's victory.
Patience and Prioritizing Recovery
In the world of professional sports, injuries are an unavoidable part of the game. What's crucial, however, is the careful management and rehabilitation of these injuries to ensure a player's long-term fitness and performance. Shreyas Iyer and the BCCI Medical Team understand this well, and their cautious approach is a testament to their commitment to his well-being.
The Bigger Picture
While the absence of Shreyas Iyer is undoubtedly a blow for the Indian team, it also presents an opportunity for other players to step up and make their mark. In a sport as dynamic as cricket, adaptability is key, and Team India will undoubtedly be focusing on fielding their strongest possible lineup given the circumstances.
Fans eagerly await Shreyas Iyer's full recovery and his return to the pitch, where he can continue to showcase his immense talent and contribute to Team India's success. In the meantime, our best wishes go out to him for a speedy recovery, and we look forward to seeing him back in action soon.
Also Read: Asia Cup 2023: Sunil Gavaskar hails Jasprit Bumrah's mastery against Pakistan
Last Updated Sep 12, 2023, 2:52 PM IST