Asia Cup 2023: Rain gets the final say in the India vs Pakistan match
A much-anticipated showdown between cricketing giants, Pakistan and India, was marred by relentless rainfall, leading to the abandonment of the match.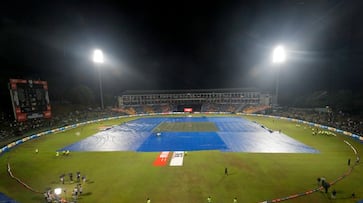 In a highly anticipated clash between cricketing giants, the Asian Derby between Pakistan and India took an unexpected turn as Mother Nature asserted her dominance, forcing the match to be abandoned due to persistent rainfall. Despite the disappointment, the players from both sides showcased true sportsmanship, sharing handshakes and friendly words as they accepted the inevitable.
As the rain clouds gathered and the skies opened up during the innings break, cricket enthusiasts held onto hope that the contest would continue, even in a shortened format. Brief moments of respite from the downpour briefly raised spirits, teasing the prospect of a nail-biting finish. However, the relentless rain ultimately proved to be the victor, prompting match officials to make the heart-wrenching decision to call off the game after just one full innings.
The scenes that followed the abandonment were a testament to the spirit of the sport. Match Referee Javagal Srinath summoned Pakistani skipper Babar Azam, initiating a handshake that symbolized the camaraderie between the two teams. Indian captain Rohit Sharma followed suit, graciously shaking hands with Srinath and Azam. It was a moment that transcended the disappointment of the abandoned match, emphasizing the mutual respect and sportsmanship that cricket embodies.
Also Read: Asia Cup 2023: Jasprit Bumrah vs Shaheen Afridi - A rivalry of pace and precision
Despite the unfortunate turn of events, Pakistan remains at the top of Group A with 3 points from two matches, making them the first team to secure a spot in the Super Fours. Meanwhile, India holds second place with one point from one match, eagerly awaiting their upcoming encounter against Nepal on 4th September, with hopes of advancing further in this prestigious tournament.
While rain may have interrupted this epic showdown, the passion and rivalry between Pakistan and India on the cricket field continue to burn bright. Cricket fans around the world can only hope for clearer skies and a chance to witness the resumption of this storied rivalry in the near future.
Also Read: Lockie Ferguson to lead New Zealand in ODI series against Bangladesh as senior players rest ahead of World Cup
Last Updated Sep 2, 2023, 11:32 PM IST