Asia Cup 2023: Jasprit Bumrah vs Shaheen Afridi - A rivalry of pace and precision
In the high-voltage clash of India vs Pakistan at Asia Cup 2023, the spotlight shifts to a fascinating showdown between two pace sensations, Jasprit Bumrah and Shaheen Shah Afridi.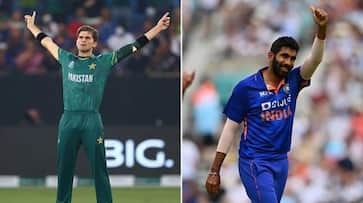 The clash between India and Pakistan in cricket has always been more than just a game; it's a spectacle filled with passion and watched with reverence. As the Asia Cup 2023 unfolds, this iconic rivalry takes center stage once again. While the contests over the past three decades have showcased India's legendary batting prowess against Pakistan's formidable bowling attack, today's game brings forth a new narrative.
Both teams have evolved significantly, with India nurturing formidable fast bowlers like Jasprit Bumrah, Mohammad Shami, and Mohammad Siraj, while Pakistan's batting lineup boasts talents like Babar Azam, Fakhar Zaman, and Imam ul-Haq. Amidst this transformation, the spotlight falls on the clash of two fiery fast bowlers - Jasprit Bumrah representing India and Shaheen Shah Afridi donning Pakistan's colours.
Let's delve into a comparative analysis of their performances in One Day Internationals (ODIs), considering various aspects such as overall statistics, and their effectiveness with new ball and old ball.
Also Read: Asia Cup 2023: Rain and Pakistan pacers dent India's first innings total
Shaheen Afridi (2018-2023):
Innings: 39
Wickets: 78
Best Bowling: 6/35
Average: 23.08
Economy Rate: 5.42
Strike Rate: 25.5
4-Wicket Hauls: 5
5-Wicket Hauls: 2

Jasprit Bumrah (2016-2023):
Innings: 72
Wickets: 121
Best Bowling: 6/19
Average: 24.3
Economy Rate: 4.63
Strike Rate: 31.4
4-Wicket Hauls: 5
5-Wicket Hauls: 2
Also read: Asia Cup 2023: Matheesha Pathirana; Meteoric rise of the cricket sensation
New Ball vs Old Ball:
With New Ball (Overs 0-10):
Bumrah: 34 wickets in 67 innings
Afridi: 31 wickets in 39 innings
With Old Ball (Overs 40-50):
Bumrah: 61 wickets in 58 innings
Afridi: 36 wickets in 26 innings
In summary, while Shaheen Afridi holds a slight edge in certain aspects, Jasprit Bumrah's consistency and effectiveness in different conditions make him a potent force in the ODI format. However, the real showdown will unfold on the cricket field, where these two pace wizards will look to outshine each other, in the Asia Cup and the ODI World Cup. 
Also Read: Asia Cup 2023: Rain threatens India vs Pakistan clash; Kandy weather forecast
Last Updated Sep 2, 2023, 9:59 PM IST