Asia Cup 2023: India vs Pakistan; All you need to know
The highly anticipated showdown between India and Pakistan in the 2023 Asia Cup is set to ignite cricket's fiercest rivalry. As these two cricketing giants prepare to face off, we delve into their ODI statistics, head-to-head records, and the rich history of the Asia Cup tournament.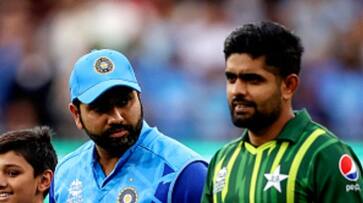 The much-anticipated showdown between India and Pakistan in the 2023 Asia Cup is approaching, scheduled to take place on saturday. The Indian team arrived in Sri Lanka on Wednesday after completing their training camp. India and Pakistan are slated to face off in the Group A match of the 2023 men's Asia Cup on September 2 in Kandy. Below, we provide you with a comprehensive overview of the head-to-head records and statistics for India vs. Pakistan in men's ODI Asia Cup matches.
India and Pakistan find themselves in the same group, Group A, guaranteeing at least one encounter between them on September 2. Should both teams progress to the Super Fours, they'll cross paths again on September 10. Additionally, if they both reach the final, a third and decisive clash will occur on September 17. As the highly anticipated showdown draws near, let's delve into the head-to-head records and statistics for these two cricketing giants.
India's Men's ODI Asia Cup Record:
India's participation in the ODI format of the Asia Cup spans 12 out of the 13 editions, with an absence in the 1986 edition. India boasts the most successful track record in men's ODI Asia Cup history, having secured victory in the tournament on six occasions, including both the inaugural edition in 1984 and the most recent edition in 2018. Out of 49 ODIs played in the Asia Cup, India emerged victorious in 31, making them one of the most successful teams in terms of ODI victories in the Asia Cup, second only to Sri Lanka, who have secured 34 wins.
Pakistan's Men's ODI Asia Cup Record:
Pakistan, too, have participated in nearly every edition of the men's ODI Asia Cup, with an exception in the 1990/91 edition. They have clinched the championship twice, in 2000 and 2012, while also being runners-up on two occasions, in 1986 and 2014. In terms of match victories, Pakistan stands as the third-most successful team in men's ODI Asia Cup history, with 26 wins out of 45 matches contested throughout various editions.
India vs Pakistan in Men's ODI Asia Cup: Head-to-Head Record
The cricketing giants, India and Pakistan, have crossed paths on 13 occasions in men's ODI Asia Cup encounters. India maintains a slight advantage in this rivalry, having emerged victorious in seven out of the 13 encounters, while Pakistan has claimed victory in five of them.
Also Read: Asia Cup 2023: Rain threatens India vs Pakistan clash; Kandy weather forecast
5 players to watch out in India vs Pakistan encounter
1. Babar Azam, the captain and star player, holds an impressive ODI record with 103 matches, 5202 runs, and an average of 58.44, including 18 centuries and 28 half-centuries. Despite his stellar career, Babar may want to prove himself against India. He has faced India just five times with limited success, averaging 31.60 with no centuries or half-centuries. These matches occurred when he was still establishing himself. Babar played key roles in Pakistan's memorable victories over India in the 2017 Champions Trophy and the 2021 T20 World Cup.'
2. Virat Kohli boasts impressive ODI career stats with 275 matches, 12,898 runs, and an average of 57.32, featuring 46 centuries and 65 half-centuries. Despite playing just one bilateral series against Pakistan, his ODI record against them stands out. In 13 matches, he's scored 536 runs at an average of 48.72, with two centuries, including a memorable 183 during the 2012 Asia Cup. However, he's played only three ODIs against Pakistan since then, making him a coveted wicket.
3. Naseem Shah, a young paceman, is yet to face India in ODIs. In three encounters with India last year, he showed promise by claiming crucial wickets in the Asia Cup and delivering a notable performance at the MCG. Despite limited ODI exposure, Naseem has demonstrated his capability with two five-wicket hauls, including one against New Zealand.
Also Read: Rinku Singh does it again, pulls off a heist by smashing 3 sixes in the UPT20 League (Watch)
4. Haris Rauf, known for his pace and economy, is a valuable asset for Pakistan in limited-overs cricket. He is yet to play an ODI against India, but his performance in T20Is against India has been noteworthy. In four T20I matches between the two sides in 2021 and 2022, Rauf took four wickets with an average of 33.50, making him a challenging bowler to face. His ability to control runs was evident in a T20 World Cup match in 2022.
Fakhar Zaman, a prolific batsman, has faced India in just four matches but has made a significant impact. He scored a memorable 114 off 106 balls, helping Pakistan secure a win against India. Fakhar has maintained an impressive average of 51.75 against India. His recent form in ODIs, including three consecutive centuries against New Zealand, makes his wicket crucial for India, as his early dismissal could influence the match's outcome.
5. Jasprit Bumrah, India's premier fast bowler, has been absent from ODI matches for over a year due to injuries and scheduling issues. His last ODI appearance was on July 14, 2022, where he took two wickets, but India faced a 100-run defeat to England. Bumrah missed major tournaments like the Asia Cup and T20 World Cup due to injuries. He recently returned to action in a T20I series against Ireland and looks to make an impact in ODIs. In his five ODIs against Pakistan, he has taken four wickets, with varying performances, including being among the most expensive bowlers during the 2017 Champions Trophy. Bumrah aims to improve his record in the upcoming match.
Last Updated Sep 1, 2023, 4:51 PM IST