Rinku Singh does it again, pulls off a heist by smashing 3 sixes in the UPT20 League (Watch)
In a breathtaking display of skill, Indian cricketer Rinku Singh became the hero for UP Mavericks as he smashed three consecutive sixes during a Super Over, leading his team to a thrilling victory.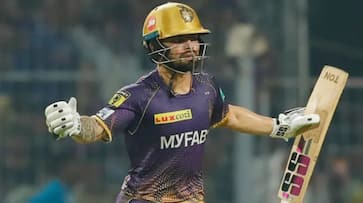 Requiring 17 runs to secure victory during the Super Over, Rinku Singh displayed exceptional prowess by smashing three consecutive sixes. His remarkable performance led UP Mavericks to triumph in the match. Whenever cricket enthusiasts hear the name Rinku Singh, they immediately recall the striking memory of him hitting five successive sixes against Gujarat Titans in the 2023 Indian Premier League (IPL) encounter. While representing Kolkata Knight Riders, Rinku achieved the extraordinary feat during the final over of the match against Yash Dayal. Similarly, in another instance while playing for Meerut, Rinku demonstrated his prowess in a Super Over decider by hitting three consecutive sixes to secure victory for his team.
During the UP T20 league, Meerut Mavericks faced off against Kashi Rudras, and Rinku emerged as the pivotal match-winner for his squad. With 17 runs needed from the one-over eliminator, Rinku delivered an exceptional performance, launching three consecutive sixes against left-arm spinner Shiva Singh. Although the first ball yielded no runs, the subsequent three deliveries propelled UP to victory. You can watch the video here:
Rinku confidently dispatched the second ball of the over for a six over long off. This KKR star, who has also made his debut for the Indian national team, followed up with another powerful shot that cleared the boundary at deep mid-wicket. To clinch the win, Rinku concluded the game with yet another six, this time over long off.
Also Read: Tanveer Sangha's remarkable debut: Unexpected rise of the Australian leg spinner
Notably, both teams had reached a score of 181 runs each after completing 20 overs in the initial match. In that very game, Rinku's performance was somewhat lackluster, as he managed to score only 15 runs off 22 balls. Despite this, the UP franchise decided to deploy him in the Super Over, a decision that certainly paid off.
Having secured his debut for the Indian T20 format, Rinku will also proudly represent the national team in the upcoming Asia Games, scheduled for later this month.
Last Updated Sep 1, 2023, 9:31 AM IST