Asia Cup 2023: Gautam Gambhir speaks candidly when addressing India's top-order struggle against Sri Lanka
Former Indian cricketer Gautam Gambhir didn't hold back in his assessment of India's top-order performance during their Super 4 clash against Sri Lanka in the 2023 Asia Cup.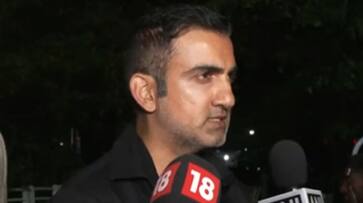 India's formidable top-order crumbled during their Super 4 match against Sri Lanka in the 2023 Asia Cup, much to the dismay of Gautam Gambhir. Having showcased an exceptional display against Pakistan, India's batting lineup, including stars like Rohit Sharma, Shubman Gill, Virat Kohli, and KL Rahul, all of whom had scored over 50 runs in the previous match, faced early dismissals. The 20-year-old Sri Lankan spinner, Dunith Wellalage, claimed a spectacular five-wicket haul in the game. While acknowledging the brilliance of the young Sri Lankan spinner, former Indian cricketer Gautam Gambhir expressed his disappointment at the "soft dismissals" of players like Kohli, Rohit, Rahul, and others.
During a conversation on Star Sports following the match, Gambhir pointed out a concerning "pattern" emerging within the Indian team, particularly when facing spinners. He cited a previous match against Australia where Indian batsmen struggled against spinners like Adam Zampa and Ashton Agar in Chennai, emphasising that whenever the ball grips the surface, India seems to encounter difficulties and struggles to take the game deep. Gambhir stressed the importance of batters adapting when the ball grips, especially on pitches not conducive to high-scoring games.
Gambhir delved into the technical aspects of playing spin, emphasising the need to play certain deliveries off the back foot rather than the front foot for effective defensive play. He provided insights into why positioning and shot selection are crucial when facing spinners to minimize the risk of outside edges.
Also Read: Asia Cup 2023: Who will be India's opponent if rain affects Pakistan vs Sri Lanka Super 4 match?
Also Read: Asia Cup 2023: Shubman Gill jumps to 2nd spot in ICC ODI rankings; breathes down Babar Azam's neck
Last Updated Sep 14, 2023, 12:27 PM IST