Asia Cup 2023: Who will be India's opponent if rain affects Pakistan vs Sri Lanka Super 4 match?
As the 2023 Asia Cup nears its thrilling conclusion, a significant rain threat hangs over the pivotal Super 4 match between Pakistan and Sri Lanka, with India already securing their spot in the final.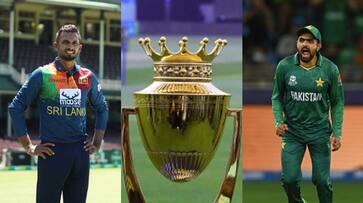 The grand finale of the 2023 Asia Cup is fast approaching, and it's a showdown everyone is eager to witness. Rohit Sharma's squad secured their spot in the final with impressive victories against both Pakistan and Sri Lanka in the Super 4s. Bangladesh, unfortunately, has been eliminated from contention. Yet, as the tournament has unfolded, rain has played a recurring role, leaving us to wonder: What happens if the highly anticipated Super 4 clash between Sri Lanka and Pakistan is also marred by rain?
Is there a Reserve Day?
While a reserve day was allocated for the India vs. Pakistan Super 4 encounter, no such provision exists for the Sri Lanka vs. Pakistan match. For a victor to be determined between Sri Lanka and Pakistan, they will need to contest a 20-over-per-side match on Thursday.
What happens in the event of a Washout?
Rain has been a persistent factor throughout the Asia Cup 2023, and the Pakistan vs. Sri Lanka Super 4 match may not be exempt. Weather forecasts predict rain in Colombo on Thursday. In the event of a complete washout, Sri Lanka would advance to the final due to their superior Net Run Rate (NRR) compared to Pakistan.
Currently, despite having the same number of points (2), Sri Lanka ranks second in the Super 4 standings. Both teams have recorded one win and one loss. However, Pakistan lags behind in third place due to their inferior NRR in comparison to their Super 4 counterparts.
Sri Lanka boasts an NRR of -0.200, while Pakistan's stands at -1.892. Therefore, Pakistan's only path to the final hinges on playing and defeating Sri Lanka today.
Additionally, it's worth noting that the Asia Cup has never seen a final matchup between India and Pakistan, two of the fiercest rivals in cricket.
Thanks to their perfect performance in the Super 4 stage, India has already secured their place in the title decider. They are eager to add a seventh Asia Cup title in the ODI format to their trophy collection. Meanwhile, Sri Lanka has clinched the title five times in the 50-over format, and Pakistan has emerged victorious twice in the tournament's history.
Also Read: Asia Cup 2023: Shubman Gill jumps to 2nd spot in ICC ODI rankings; breathes down Babar Azam's neck
Last Updated Sep 14, 2023, 11:32 AM IST