A doctor's prognosis of controversial Ivermectin
Asianet Newsable reached out to Dr Basavaraj Kuntoji, consultant for internal medicine at Manipal Hospital in Malleshwaram, Bengaluru, to understand more about Ivermectin and the controversy surrounding the anti-parasitic drug.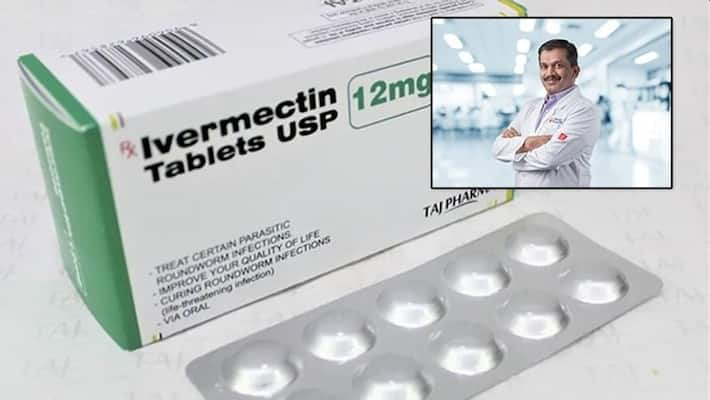 There is a lot that has been said about the use of Ivermectin to treat patients infected with Coronavirus. Despite the World Health Organisation, US Food and Drug Administration and the European Medicines Agency refusing to endorse the anti-parasitic drug, Ivermectin continues to figure in the government of India's guidelines for Covid-19 treatment.
Asianet Newsable reached out to Dr Basavaraj Kuntoji, consultant for internal medicine at Manipal Hospital in Malleshwaram, Bengaluru, to understand more about Ivermectin.
Is Ivermectin really effective in treating Covid-19 at any given stage of the infection?
Ivermectin is a widely-used antiparasitic drug with known partial efficacy against several single-strain RNA viruses and is reported to have in vitro inhibition of SARS-CoV-2 replication using micromolar concentrations of Ivermectin. These findings, together with early observational evidence and ecological evidence, prompted several Latin-American countries to include Ivermectin as part of the national policy for COVID-19 treatment. 
As of December 21, 2020, there are 45 studies evaluating the efficacy of Ivermectin to treat or prevent COVID-19 registered in clinicaltrials.gov, and 74 trials registered in WHO's International Clinical Trials Registry Platform (https://apps.who.int/trialsearch/) of which at least 14 are already completed. 
Although some observational and case-control studies, as well as emerging small randomized clinical trials, suggest a potential utility, yet there is still a dearth of robust, randomized controlled trials to appropriately inform policy decisions. 
Ivermectin, which has antiviral activity against a wide range of RNA and some DNA viruses, e.g., Zika, Dengue, Yellow Fever, and others, have demonstrated specific action against SARS-CoV-2 in vitro with a suggested host-directed mechanism of action being the blocking of the nuclear import of viral proteins, which suppress normal immune responses. However, the cell culture EC50 may not be achievable in vivo.

US FDA, WHO, EMA have refused to endorse Ivermectin, but the Union health ministry recommends its use.
This medicine had recently been included in the Union health ministry's revised national COVID-19 treatment protocol for people with mild disease even though its maker has now clarified that there is no evidence of its efficacy against the viral disease. 
The World Health Organization recommended against the general use of Ivermectin, an orally-administered drug for the treatment of Covid-19. Safety and efficacy are important when using any drug for a new indication. WHO recommends against the use of Ivermectin for Covid-19 except within clinical trials.
Why are some medical professionals and state governments prescribing 12MG when the ICMR suggests just 200 MCT a day for 3-5 days?
To study the role of Ivermectin in the prevention of SARS-CoV-2 infection among healthcare workers in India, a matched case-control study, which is a hospital-based matched case-control study was conducted among healthcare workers of AIIMS Bhubaneswar, India, from September 2020 to October 2020. This study concluded that two-dose ivermectin prophylaxis at a dose of 300 μg/kg body weight with a gap of 72 hours was associated with a 73% reduction of SARS-CoV-2 infection among HCWs in the following one month. Chemoprophylaxis has relevance in the containment of pandemic. This is an intervention worth replicating at other centres until a vaccine is widely available.
Does the use of Ivermectin have side effects? Who should not take it?
Side-effects associated with Ivermectin include headache, dizziness, muscle pain, nausea, or diarrhoea, joint pain, tender/swollen lymph nodes, eye swelling/redness/pain, weakness, vision changes, itching, rash, and fever.
NOTE: Asianet News humbly requests everyone to wear masks, sanitize, maintain social distancing and get vaccinated as soon as eligible. Together we can and will break the chain #ANCares #IndiaFightsCorona
Last Updated May 24, 2021, 12:59 PM IST