Petrol, Diesel price today, August 12: Check latest rates in Chennai, Noida and other cities
Petrol, Diesel Rates on 12 August 2023: Oil marketing companies have just released the updated rates for petrol and diesel. The final price of petrol and diesel includes several components, such as transportation costs, taxes, and dealer commissions. These charges differ from state to state.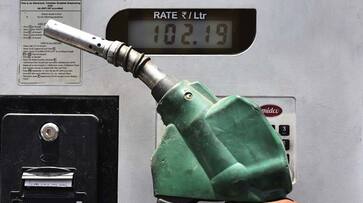 The government-controlled oil companies have released the prices for petrol and diesel. BPCL, Indian Oil, and HPCL have maintained the current prices for both petrol and diesel without any adjustments. The rates for petrol and diesel remain constant in major cities like Delhi, Mumbai, Chennai, and Kolkata.
Minor variations were witnessed in some parts of the country. Here's a look at fuel prices in other cities:
Bengaluru
Petrol rate: Rs 101.94
Diesel rate: Rs 87.89
Chandigarh
Petrol rate: Rs 96.20
Diesel rate: Rs 84.26
Chennai
Petrol rate: Rs 102.73
Diesel rate: Rs 94.33
Gurugram
Petrol rate: Rs 96.97
Diesel rate: Rs 89.84
Kolkata
Petrol rate: Rs 106.03
Diesel rate: Rs 92.76
Lucknow
Petrol rate: Rs 96.57
Diesel rate: Rs 89.76
Mumbai
Petrol rate: Rs 106.31
Diesel rate: Rs 94.27
New Delhi
Petrol rate: Rs 96.72
Diesel rate: Rs 89.62
Noida
Petrol rate: Rs 96.92
Diesel rate: Rs 90.08
Crude oil prices continue their volatile pattern, with the current value staying above $85 per barrel. The Brent crude stands at $86.81 per barrel, while WTI crude is at $83.19 per barrel. The government oil companies revise the prices of petrol and diesel daily at 6 am. These revisions encompass various factors such as transportation expenses, dealer commissions, and taxes imposed by both central and state governments.
Rameswar Teli, Minister of State in the Ministry of Petroleum and Natural Gas, had recently informed the Parliament that there is currently no proposal to establish uniformity in the pricing of petroleum products across the nation.
Teli also pointed out that the government has implemented reductions in central excise duty. Specifically, there were two instances of reductions: Rs 13 per litre on petrol and Rs 16 per litre on diesel, carried out in November 2021 and May 2022, respectively.
"The reductions in excise duty were entirely transferred to consumers, leading to a decline in retail prices. This step was taken to further stimulate the economy, enhance consumption, and maintain low inflation, thereby benefiting the lower and middle-income groups. Additionally, numerous states and union territories have subsequently decreased VAT rates on petrol and diesel," he explained.
Last Updated Aug 12, 2023, 8:59 AM IST